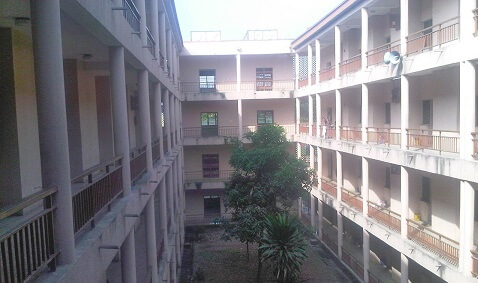 Be the first to let your friends know about this. Click the buttons below to share on Whatsapp, Facebook or Twitter.
UNILAG Hostel Accommodation: Full Application Guide
In this article, we will be sharing all about UNILAG hostel accommodation application. If you have been searching for [the living conditions of UNILAG Hostels, capacity of UNILAG hostels, what is UNILAG hostel balloting, UNILAG Hostel balloting for 2019/2020 session, how to apply for UNILAG hostel in 2019/2020 session, UNILAG hostel fees, UNILAG hostel application for freshers, etc] then your search is over. Let's see the application procedure!
How to secure hostel space in UNILAG for the 2019/2020 session
Pay your school fees and register your courses online on UNILAG portal. Only those that have paid their school fees for that session are eligible to apply for hostel and participate in balloting.
On the day of balloting, there is usually a lot of traffic so students are advised to use more than one device to ballot for hostel spaces, to ensure they can secure one. Balloting last for about 3 to 4 days. This session's (2019/2020) balloting will begin on the 6th of January, 2020.
If you could secure a space, you will have to pay in the bank through Remita within 3 days after you get the space or you would forfeit it.
Then you wait for the date for hostel registration in the respective halls.
After you have successfully done your hostel registration, sometimes known as manual clearance, at the halls of residence, you are free to move in.
What is UNILAG Hostel Balloting?
If you are a fresher, I am sure you must have asked in your mind "what exactly is balloting?" Well, think of it as black Friday shopping where everyone is trying to shop for a limited amount of products. In this case, students fight the heavy traffic to secure hostel space via the UNILAG balloting portal. Fun, isn't it? Let's see how it's done!
How to Ballot for UNILAG Hostel
Go to UNILAG Student portal
Log in to your student profile
Scroll down and click on the accommodation icon
Select your desired hostel (scroll down to read about the hostels)
Click on hostel reservation
Confirm your reservation
Download your hostel slip
Balloting seems easy right? Trust me, it's not that easy!
UNILAG Hostel Clearance Requirements
Once you have secured a space, the next thing is to clear the space. Here are the requirements for UNILAG hostel clearance.
Original hostel confirmation slip
WAPIC Receipt
Bio-data form (for freshers)
Lagmobile receipt
School fees receipt
2 Bed-sheets
2 Pillow-cases
7 personal passport photographs
Parents passport photograph
Admission letter (for freshers)
Signed conditions of tenancy
Note:
The registration is done online via UNILAG online portal
The spaces in each room are labeled A, B, C, D, E, F and so on, depending on the capacity of the room. This number is given to you when you secure a space on UNILAG online portal. Unlike other universities where top bunks are for 100 level and 200 level students, hostel spaces in UNILAG are not given based on the level. In other words, a final year student can get the top bunk space and a fresher can get the bottom bunk space.
All hostel balloting is on a first come first serve basis and is done online. Freshers and final year students are usually given preference during the balloting for hostels.
Hostels usually face the problems of pests and bed bugs so ensure you have yourself prepared for everything.
All hostels (male and female) have a good power supply except in rare situations where there is a general power failure. These situations are managed speedily on campus anyway.
All hostels cost N25,000 except Sodeinde Hall that costs from N65,000 to N85,000. This accommodation fee is paid per session.
UNILAG Undergraduate Hostels
In the University, there are fifteen (15) hostels in total. Seven (7) are female hostels while six (6) are male hostels and the remaining two (2) hostels are mixed.
UNILAG Male Hostels
Eni Njoku Hall
The Eni Njoku Hall is specifically for UNILAG male students. The rooms are considerably small, probably the reason why squatting is not tolerated in the hall. Eni hall is said to be "boring", so if you are the calm type, this might be your hall!
King Jaja Hall
This is a male hostel with 2-man to 16-man rooms. The hostel was named after Jaja of Opobo. The hostel has large lockers and a good common room where residents usually watch soccer matches. Sadly, the sanitary condition is poor. On the brighter side, the hall is very close to Faculties of Science, Engineering, Art, Law, departments of business administration and mass communications. The hall also has a regular water supply and is known as the home for crazy gentlemen.
Mariere Hall
This is a male hostel with a capacity of four (4) occupants. It is one of the neatest male hostels with a steady water supply. It is close to the Faculties of Art and Engineering, and the commercial banks in the school. So, residents are very close to ATMs. Mariere Hall has the best shower, air-conditioned common room, gym facilities. The hall is fun, but not as crazy as the Jaja Hall.
Saburi Biobaku Hall
This is a male hostel that has a capacity of eight (8) occupants. This hostel is close to the main gate, Faculties of Environmental Sciences and Education. The interior is amazing, the rooms are small, and the occupants are creepy (no offense).
Sodeinde Hall
This is a private hostel for males. The occupants vary from room to room just like the Queen Moremi Hall. The hostel is the most expensive and of course, most comfortable.
UNILAG Female Hostels
Fagunwa Hall
This is a female hostel that has a room size similar to that of Makama Hall. It also has a capacity of four (4) occupants, that is, two (2) double bunks. Fagunwa Hall is neater than other halls like Makama.
Honours Hall
This is a female hostel that is located on the outskirt of the main school area. Residents of this hostel frequently face water supply issues and even when there is a good water supply, the water is usually not clean. The hostel is unsafe and has been known for theft, rape, and robbery. It is not advisable for fresh female students to be residents of this hostel.
Kofo Ademola Hall
This is a female hostel. It is commonly referred to as Madam Kofo Hall. It is very large and comprises of four (4) double bunks. The hostel is famous for its bed bug issues and poor sanitary conditions. Also, the hostel is located at the far end of the school so getting to classes on time may pose a challenge.
Madam Tinubu Hall
This is a female hostel popularly referred to as MTH. It has a capacity of four (4) occupants meaning that there are two (2) double bunks. The room size is the same as that of Fagunwa and Makama Hostel. MTH is very clean and the surroundings are well kept.
Makama-Bida Hall
This is a female hostel with a capacity of four (4) occupants. It has two (2) double bunks spaces provided. The rooms in this hostel are reasonably sized. The downside is that there is usually a poor water supply and the hostel is not hygienic especially the toilets and bathrooms.
Queen Amina Hall
This is a female hostel. It comprises of two (2) double bunks. Hence, it has a capacity of four (4) occupants. The rooms are smaller in comparison to the other hostels within UNILAG. Also, the lockers for storage are outside the rooms.
Queen Moremi Hall
Queen Moremi Hall is the largest female hostel in terms of compound size. It has 4 types of rooms all of different capacity. It has 4-man rooms, 6-man rooms, 8-man rooms, and 10-man rooms. It is the cleanest female hostel. The water supply is very good. The hostel has excellent facilities and the rooms are spacious. It has a very spacious common room for students to relax and catch fun.
UNILAG Mixed Hostels
There are other hostels that are for both males and females which you can do further research on. Hostels like Erastus Akingbola and Henry Carr Hall fall in this category.
Hostel Info Credit: Johnson Aboyowa Johnson
Finally!
Was this article useful? Don't forget to share your hostel experience via the comment section! If you are a fresher, welcome to the great University of Lagos, we do hope this article helps you make a good hostel pick.
Related Articles:
UNILAG Inter University Transfer 2021/2022 | Guidelines And How To Process It
University of Lagos (UNILAG) JUPEB Admission Form 2021
Updated: List of Courses Offered in UNILAG & Admission Requirements
School Hostel Versus Off-campus Hostels: Which is Better?
What Are The Documents Required For First Year Clearance?
List of Resumption Items For First Year Students
Beginners Guide For First Year Students
Be the first to let your friends know about this. Click the buttons below to share on Whatsapp, Facebook or Twitter.