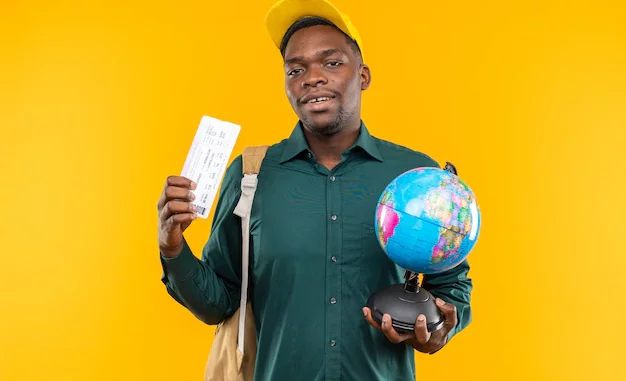 Be the first to let your friends know about this. Click the buttons below to share on Whatsapp, Facebook or Twitter.
Guide to Obtaining a UK Student Visa: Requirements and Process
Introduction: Studying abroad is a dream for many, and for those aspiring to pursue education in the United Kingdom, securing a student visa is a crucial step. In this guide, we'll walk you through the detailed process of obtaining a UK Student Visa, along with the essential requirements you need to meet.
 Understanding the UK Student Visa
What is a UK Student Visa and Who Needs It?
Studying in the UK as an international student requires obtaining a UK Student Visa. This visa grants you permission to enter the UK for the purpose of pursuing education. It's essential to understand that international students from outside the European Union (EU) and European Economic Area (EEA) are required to obtain this visa.
Essential Documents for a UK Student Visa
The Building Blocks of a Successful Application
Passport Details:

A valid passport is the foundation of your application. Ensure that your passport is valid throughout the duration of your intended stay in the UK.

Recent Passport-Sized Photograph:

Provide a recent, high-quality passport-sized photograph that adheres to official guidelines. This photograph will be an integral part of your visa application.

Confirmation of Acceptance for Studies (CAS):

The CAS is a crucial document, serving as proof of your unconditional offer of admission from a licensed Tier 4 sponsor. Obtain this document from your course provider.

English Language Proficiency:

If English is not your native language, you'll need to demonstrate proficiency through a Secure English Language Test (SELT). However, exemptions apply for applicants from English-speaking countries or those with equivalent qualifications.

Proof of Financial Support:

Provide evidence that you have the financial means to cover your tuition fees, accommodation, and living costs. Acceptable documentation includes bank statements or sponsorship letters.

Academic Qualifications:

Compile and provide transcripts and certificates that validate your academic qualifications. These documents play a crucial role in the assessment of your eligibility.

Interview and Biometric Test:

Be prepared to attend an interview and undergo a biometric test, which includes a digital scan of your fingerprints. This step is essential for security and identification purposes.

Medical Requirements:

Depending on your country of origin, you may be required to undergo specific medical vaccinations or tuberculosis tests. Ensure compliance with these health regulations.

Parental Consent (for Applicants Under 18):

If you're 16 or 17 years old, seeking a Tier 4 (General) UK student visa, written consent from your parents or guardians is mandatory. This consent affirms your ability to live and travel independently.
Application Process for a UK Student Visa
Subtitle: Navigating the Online Application Portal
Access the official UK government visa application website and carefully complete the application form. Take it step-by-step, providing accurate and complete information. Be sure to double-check all entries before submission to avoid any potential delays.
Understanding Healthcare Surcharge
Subtitle: Accessing the National Health Service (NHS) during Your Stay
The healthcare surcharge is a fee that ensures access to the National Health Service (NHS) during your stay in the UK. Calculate and pay the surcharge as part of your visa application process to secure necessary healthcare services throughout your studies.
Conclusion: Achieving Your Dream of Studying in the UK
In conclusion, obtaining a UK Student Visa is a pivotal step towards realizing your educational aspirations in the United Kingdom. By carefully adhering to the outlined requirements and following the application process diligently, you can pave the way for a successful academic journey abroad. Remember, with determination and proper preparation, studying in the UK can become a reality.
For more information visit here
Read also
Be the first to let your friends know about this. Click the buttons below to share on Whatsapp, Facebook or Twitter.