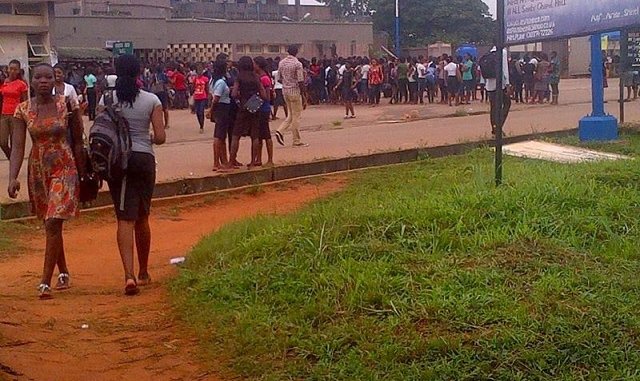 Be the first to let your friends know about this. Click the buttons below to share on Whatsapp, Facebook or Twitter.
Commotion in UNIBEN As Student Set Herself Ablaze While Trying To Cook
Information reaching us is that an unidentified student of the great University of Benin set herself ablaze while trying to fix her lunch. According to our source, the girl was trying to add more kerosene to the stove while the stove was still on. This suddenly caused an explosion that engulfed the girl and almost set the entire room ablaze.  According to an eye-witness, the fire was contained and the victim was rescued before the fire could escalate.
More information on this incident will be communicated to you shortly!
…before you go, do you know you can deal with academic distractions easily?
Do you sleep off while reading? Here are some tips that can help you!
Thinking of how life would be after school? We have a life after school plan all set for you!
METRO GOSSIP
Different Types of UNIBEN Hostel Girls
In no particular order, we'll be sharing the different types of UNIBEN hostel girls.
Borrow Borrow
This category of girls always depends on people's stuff. They don't buy and they don't return things when they take it. They have sweet lips and you can't just say no to them. These professional beggers start by admiring your hair. "Debby this your scattered hair fit you o". When they start admiring you like that, run!
The Hostel Ancestors
These ones dedicate themselves to training freshers and sharing the history of the hostel and UNIBEN at large. They act as mothers and act as the landlord of the room. When you cook, they will become your small sister, but when you cook, they will turn back to ancestors.
The Naked Ones
These ones will never cover their nakedness. All they do is walk around in their birthday suit. Funny thing is, some of them don't even have a fine body. Just say "Aunty try and wear cloth na", and they'll say you're jealous of their bum bum.
The Bullies
These ones don't have power, but they can shout and rant. They can threaten to slap your teeth off. Once you try to fight them, they'll focus on removing your bra. They love quarrel more than fight. Once they start shouting and getting to your face, avoid them and run!
The Oversabi
These ones go to different rooms just to poke their nose into matters that they know nothing about. There's no gist they don't know something about. They lie more than Linus. They can go out for gist in the morning and come back at night.
The Big Girls
These ones spend all their money to buy things just to impress others. Their lie can cause a dead person to come back alive. They will tell you that their father is Dangote's adopted brother. They use iPhone 11 and yet their brain is not smarter than Nokia torch.
The Runs Girls
These ones have so many uncles. They only come back to the hostel just to "rest". Their roommates will hail them, join them to eat the pizza and then use them as gossip topic once they leave the room.
The Bookworms
These ones will go to night class and come back with their eyes all red. Next minute they're out again for classes. They sleep in class more often than their bed.
Other Categories
Maximum hailings to the gossip crews, rumor mongers, prayer warriors, dance crews, noise-makers, selfie snappers, etc.
Did I miss any category? Add more categories via the comment box. Don't be shy, tell us where you belong!
Be the first to let your friends know about this. Click the buttons below to share on Whatsapp, Facebook or Twitter.