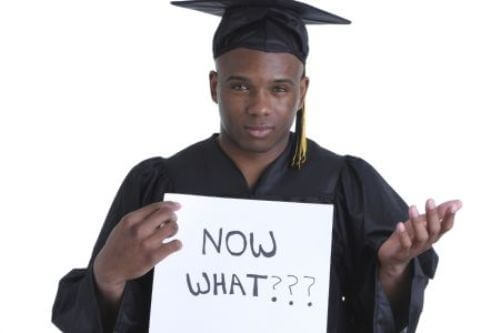 Be the first to let your friends know about this. Click the buttons below to share on Whatsapp, Facebook or Twitter.
Preparing For Life After School: 5 Crucial Steps
Life after school is always difficult to comprehend until reality hits you. Yes, you may be young at the moment, but you won't be young forever. A lot of students are making really bad decisions that will 'bite them in the ass' sooner or later. Of course, it's not bad to enjoy your youth, live in the moment and make good memories. Even so, there is a thin line between enjoying your youth and destroying your future. Life after school is not what most students think it is. Below are some tips to guide you in preparing for life after school.
1. Learn extra skills while in school
Most students allow 4-7 years to pass them by without preparing for life after school. It is important to have a good academic result but self development should be non negotiable. What give you an edge over your mates are those things you know that they don't. Learn to intern, have various work experiences, volunteer in events, attend seminars that will enable you meet new people. Add value to yourself every single day. Time is a priceless commodity, learn to utilize it efficiently. Don't let holidays go by without working or gaining new experience. Even while in school, participate in extracurricular activities.
Skills that are required in almost every job description include:
Time management skills

Problem solving skills and analytical skills

Ability to work in a team

Leadership skills

Attention to detail

Communication skills.
Apart from these soft skills, one also needs technical skills. The world is going digital and as a result, leveraging technology will go a long way to boost creativity and productivity, leading to extraordinary results. The goal of every business is to make meaningful profit. Learning skills especially in software programming will make you a priceless possession. Build yourself and people will begin to look for you. Make yourself an asset everybody wants, that's the only way to enjoy life after school.
2. Save money, no matter how little
Lack of financial management has dropped a lot of people from the table to the floor. If you have no financial back up, life after school will shock you to the bone. As a student, save for short term goals and long term goals. Have an emergency fund somewhere because there would always be an emergency, trust me. Let the habit of borrowing and 'buying on credit' end. If you cannot afford a 'want', let it go till you can. Invest your money in things that bring money without you actively working. These things bring what is called passive income.
There are new innovations everyday so that flashy car or expensive jewelry or amazing phone will be out of trend soon. It is really not worth it, think about it. Really think about it. This is the system (passive income) that all the richest men in the world have used. When this passive income starts coming, only then should you start buying all the things you 'want'. When you get a huge sum of money, don't rush and buy Benz. Invest the money in meaningful things. Save more than you spend. Don't increase your liabilities, increase your assets.
3. Make friends and be nice to people
A lot of students have this mindset of focusing fully on themselves, not minding the challenges of their course mates or friends and not having any zeal to make impact on people. You will be shocked to know that the same set of people you met in school might be the same people that will decorate your life after school. The world is a global village. Your help can come from anywhere and anyone. Have a good relationship with people; make new friends wherever you go. You can need those people later in future and vice versa. Be sincere and smart. Let people know what you stand for and how passionate you are about it.
Character is everything. Influence will take you up, attitude is what sustains you. It takes a man that is 'up' to pull you up. Have a mentor and maybe even mentors. This is very important because having people who have already been in the level you are now helping you, will definitely make your ride smoother than it would have been. Don't abuse relationships, no one knows tomorrow. Help people out when you can. Never withhold a helping hand. No matter how small it may seem to you, it could mean the world to the other person. Also, be a mentor to people. Guide them. Help them up too. There is no success without succession. Your legacy is beyond what you have but what you are willing to give.
4. Be concerned about your health
Many students have little or no regard for what they eat or how their lifestyle can badly affect their health. Overkill in every aspect is bad. The key is moderation. Eat well and exercise too. It's better to eat healthy than to spend million in the hospital treating yourself whilst in pain. As a student, you may not always have the means but try to eat a balanced diet, eat fruits and exercise too to boost your immune system. This is yourself we are talking about here and I know you love yourself so stop taking in things that would deteriorate your health. There will be no life after school if you destroy yourself through bad nutritional habit.
5. Don't stop praying
It is important to take all the steps above to prepare for life after school, but then again, do not neglect God. Don't let anything or anyone else take his place. God should be your priority always. Work hard! Hard work is not necessarily strenuous work but the release of one's full potential in the performance of daily tasks. There are forces fighting against your bright life after school. The only weapon to winning the warfare is through prayer. Put God first and everything will fall into place as far as you work hard.
Finally, don't be carried away by trends. Have a vision of what you want to do and/or be and don't stop there. Make active steps to get it! The difference between winning and losing is, most often, not quitting. NEVER GIVE UP ON YOURSELF!
 There is a thin line between enjoying your youth and destroying your future!
If you enjoyed this article "Preparing For Life After School", feel free to check out other related articles on Schoolmetro. Don't forget to express yourself on the comment session.
Thank You For Reading
Be the first to let your friends know about this. Click the buttons below to share on Whatsapp, Facebook or Twitter.