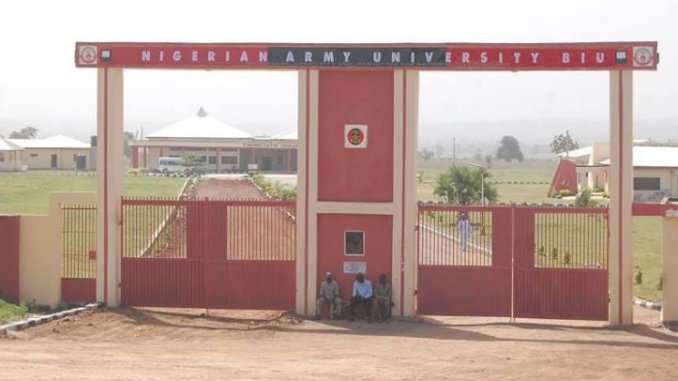 Courses offered in Nigerian Army University And Their Cut Off Marks
In this article, we will be sharing the full list of courses offered in Nigeria Army University NAUB and the admission requirements. If you have been searching for [NAUB courses, courses offered in NAUB, list of courses offered in Nigerian Army University, NAUB admission requirements, Nigeria Army University Admission requirements], then your search is over. Without much talk, let's get to it.
Courses Offered at Nigerian Army University
Faculty of Arts, Management and Social Sciences
B.A. Military History
B.A. Arabic.
B.A. English.
B.A. French.
B.A. Hausa.
B.A. Igbo.
BA. Yoruba.
BSc Accounting
BSc Economics.
BSc Geography.
BSc Management.
BSc International Relations.
BSc Peace Studies & Conflict Resolution.
BSc Political Science.
BSc Psychology.
BSc Criminology & Security Studies.
BSc Sociology.
BSc Transport & Logistics Management.
Faculty of Computing
BSc Computer Science.
BSc Cyber Security.
BSc Information Systems.
BSc Information Technology.
BSc Software Engineering.
Faculty of Natural & Applied Sciences
BSc Agriculture
BSc Biology.
BSc Chemistry.
BSc Mathematics.
BSc Electronics
BSc Physics.
Faulty of Environmental Sciences
B.Tech. Building.
B.Tech. Environmental Management.
B.Tech. Estate Management.
B.Tech. Surveying & Geo-informatics.
B.Tech. Urban & Regional Planning
Faculty of Engineering & Technology
B.Eng. Civil Engineering.
B.Eng. Structural Engineering.
B.Eng. Electrical & Electronics Engineering.
B.Eng. Materials & Metallurgical Engineering.
B.Eng. Mechanical Engineering.
Nigerian Army University Jamb Cut Off Mark
The Jamb cut off mark for all courses offered in Nigerian Army University is 180. All Aspiring candidates are expected to score 180 and above. Scoring high gives you an edge over competitors, especially for those that applied for competitive courses.
Nigerian Army University Admission Requirements
Candidates seeking admission into NAUB undergraduate programmes are expected to have the following:
Must have written the Unified Tertiary Matriculation Examination (UTME) and obtained a minimum cut-off mark of 180 in the exams. Candidates should refer to the JAMB admission requirements for Universities for O' Level/A' Level course combination for their choice of course.
Candidates must possess a minimum of five credits in SSCE or its equivalents in not more than 2 sittings. The subjects must include Mathematics, English Language and the subjects relevant to the candidate's chosen course in both Science and Humanities.
Foreign students intending to study at NAUB must have passed equivalents of O' Level/A' Level examinations in their respective countries. Those from Non-English speaking countries are to provide evidence of good proficiency in English.
For the 2018/2019 admission session, candidates interested in studying at NAUB are to change their First choice of Institution to the Nigerian Army University Biu in the JAMB portal/website. Candidates are to also upload their credentials to the portal and pay a non- refundable screening fee of N2,000.00. (Two thousand Naira only)
We hope this article has been helpful. Ensure to leave a comment in the comment section below!
Related Articles:
2020 Jamb Subject Combination For All Courses
School Hostel Versus Off-campus Hostels: Which is Better?