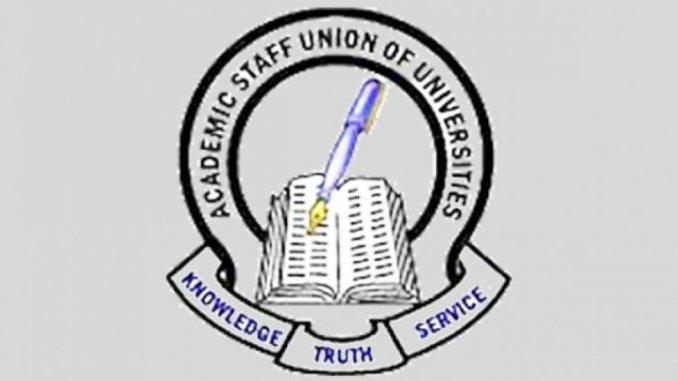 Be the first to let your friends know about this. Click the buttons below to share on Whatsapp, Facebook or Twitter.
ASUU Slams E-Classes For Universities As Suggested By the Minister of Education 
Sequel to the recent Corona Virus pandemic, the Minister of Education has suggested e-learning classes for all Universities in Nigeria. This has been condemned by the Academic Staff Union of Universities (ASUU) with a 16 pointer memo as attached below:
The Directive By The Minister Of Education That Tertiary Institution Should Resume The Session By Online Teaching

Following the call by the Honorable Minister of Education to VCs, Provosts and Rectors of tertiary education institutions to recommence their aborted academic sessions as a result of COVID-19 pandemic online, ASUU wishes to appraise Nigerians of the challenges involved in the implementation of the Ministerial directive.

It is important to break what E-learning involves down to its constituents bolts and nuts. This is necessary in order not to leave anyone in doubt that the Honorable Minister is either engaged in political gimmickry or that he is not fully informed of the situation in the sector over which he presides. To this end, it is imperative to make the following categorical declarations:

The Minister needs to understand that E-learning is not the same as computer vending and supplies. It is not as simple as computerization, supplying of computers and accessories, or simply connecting institutions to the internet.
The production of power points slides and accessing MOOCS of overseas university is not E-learning.
Online learning is a type of E-learning that depends entirely on internet-based resources and support system. E-learning requires certain behavioural changes and regulatory adjustments in order to make it work for the learner. It cannot be established by mere Ministerial directive and bureaucratic fiat but through careful and detailed planning, funding and training by those involved. None of these have been done in Nigeria.
There is no Nigerian University today that is operating any form or model of E-learning because of poor internet access, high bandwidth costs and irregular power supply. On what infrastructure does the Minister expect the online delivery to run?
Over the years governments, in collaboration with some corrupt Vice Chancellors have dumped smart boards on Universities which are now largely used as marker boards because they are not internet enabled and have no electricity to power them.
Faculties in universities have become generator farms with attendant noise pollution in an attempt to maintain some degree of services. What does the Minister expect to happen to change the entrenched degenerative situation?
Online learning depends critically on an effective library system, with online resources and seamless access from across the globe. No Nigerian Library, including the National Library has a semblance of a kindergarten library in serious countries.
Online learning can only be effective where there is effective learner support online. For such support to be sustainable both learners and facilitators must have seamless access to the internet, and must be attuned to the new environment and culture of learning. This means that requisite training must have been done.
Learning content must be available in a format amenable to self-learning. This requires skilled design through collaborative efforts by specialists over time. MOOCS have been touted as replacement for well-designed content that is suited to the characteristics of the learner and adapted to the local context. We shouldn't be fooled.
If the objectives is learning and the focus is on the learner, preliminary studies ought to have been done to determine the learner characteristics and the diversities of the realities across the federation before modelling any approach to E-learning. The Minister is not properly educated to understand that online learning is much more than copying MOOCS and making power point.
Internet access is variable across geo-political regions, as well as linguistic and cultural parameters are highly different. One size fits all approach is ludicrous. Moreover, sustainable technologies should be the factor in determining the approach to E-learning not the excitement from improperly digested information from too much education tourism.
Nigeria today runs a rudimentary distance education system through a National Open University and approved dual-mode institutions that have distance learning centers. The approach to distance education by these institutions is at best characterized as blended learning, weighing more in the direction of face to face interaction. Some of these institutions are basically disguised part-time programs.
The distance learning operations are fraught with inequities due to the fact that they are set up primarily as fund raising platforms for IGR by their respective institutions.
There is no single University in Nigeria today that operates a mix-mode system. This is when students have option to take courses online or face to face. To seek to transit therefore to online delivery will amount to taking a plunge. We believe that as usual, contractors have cornered the government and have seen a business opportunity. While civil servants are once more using COVID-19 as a reason to defraud government.
The Nigerian university system had been defrauded for many years by federal agencies who dump substandard computers in universities from time to time at the end of the year, to justify last minute plundering of national resources in the name of supporting E-learning.
With the poverty levels in Nigeria today, we are not told how the online learning will be financed. Lecturers are already burdened by the fact that they have to finance the tools of their work from their salaries. There is no other profession where employees are required to pay for the cost of the tools of their work. On the average, a lecturer spends between twenty thousand naira and forty-thousand naira on data monthly, another twenty-thousand to buy fuel for generators. This is besides the fact that he bears the cost of purchasing a lap top for his work and contributing towards keeping indigent students in school. The Academic Staff Union of Universities wishes to call on Nigerians not to be deceived by the sudden love for online learning. The hounds have smelt an avenue to plunder our national resources once more. At such a time of serious emergency, when any right thinking person should be reflecting, we can see once again that they want to make money from the suffering of the poor masses.
Consequently, Nigerian University student has taken to social media to express their dissatisfaction, claiming that the e-learning system would not work. According to a 500level student of University of Benin who was interviewed by our correspondent, the main pitfall of the system would be the cost of operations like internet data. Others claim that the lack of access to digital facilities would make the e-learning fruitless. Lecturers, on the other hand, are not used to this system and would find it difficult to cope.
Also Read:
Preparing For Life After School: 5 Crucial Steps
List of Ongoing Abroad Scholarships for Undergraduate and Master Students
Be the first to let your friends know about this. Click the buttons below to share on Whatsapp, Facebook or Twitter.