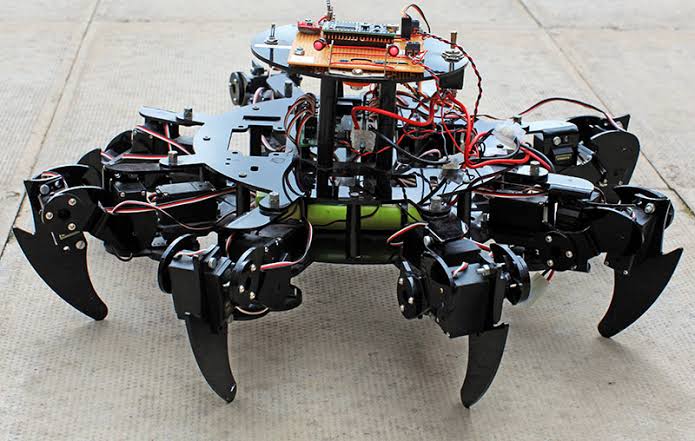 Be the first to let your friends know about this. Click the buttons below to share on Whatsapp, Facebook or Twitter.
Nigerian Universities That Offer Mechatronics Engineering (NUC Accredited)
Think of a course that unites Electrical Engineering, Computer Engineering, Mechatronics engineering and Computer Science all in one! That is Mechatronics engineering. This is a new course that has been introduced. It has major applications in Robotics, Computer-Aided Design,  Sensing and Control Systems Telecommunication, Air Conditioning, Space Exploration, Industrial Automation, Oil and Gas and even Health Care. Imagine how having this knowledge could boost Nigerian Students in terms of capacity. It can happen. It is happening actually.
Well, many Nigerians who have had passion to study this course have had their dreams turned down because the course was not available in Nigeria. We are so thankful that those days are over! A couple of Nigerian Universities now offer Mechatronics Engineering. This is a huge development to the academic sector and an opportunity for Jambites to explore towards this new adventure. Nigerian Universities offering Mechatronics Engineering include:
Abubakar Tafawa Balewa University (ATBU) is a federal university of technology located in Bauchi, northern Nigeria.
Achievers University is in Owo, Ondo State Nigeria The university is a private-sector initiative, established in 2007 and accredited by the National Universities Commission
Afe Babalola University is a private university located in Ado-Ekiti, Ekiti State, Nigeria. It was founded by a lawyer and philanthropist, Afe Babalola, in 2009.
Ahmadu Bello University is a federal government research university in Zaria, Kaduna State Nigeria. ABU was founded on 4 October 1962, as the University of Northern Nigeria. The university operates two campuses: Samaru and Kongo in Zaria.
Bauchi State University Gadau is located in Bauchi State in Nigeria. Its main campus is in Gadau which comprises faculty of Sciences & Arts, with other campuses in Misau and Bauchi respectively.
Bayero University Kano is a university situated in Kano, Kano State, Nigeria. It was founded in 1977, when it was renamed from Bayero University College and upgraded from university college to university. It is the first university in Kano State.
Bells University of Technology also known as Bellstech is the first private university of technology established in Nigeria. It was established in 2004, and began admitting students from the 2005/2006 academic session.
Bowen University is a private Baptist Christian Nigerian university owned and operated by the Nigerian Baptist Convention. Bowen University is located at Iwo in Osun State, Nigeria, and is housed in the old 1,300-acre campus of the Baptist College, a teacher-training institution on a hill just outside the city.
The Federal University Ndufu Alike Ikwo is a relatively young Nigerian University located in Ndufu Alike Ikwo Local Government Area in the South Eastern State of Ebonyi.
The Federal University, Otuoke is a federal government-owned University located in Otuoke, a town in Ogbia local government area of Bayelsa State, Southern Nigeria. The University was established in 2011 and started with 282 pioneer students. It offers degree courses at undergraduate levels.
The Federal University, Oye-Ekiti is a federal owned higher institution located at Oye-Ekiti, Ekiti State Nigeria. The institution is one of the few schools in Nigeria that offer Mechatronics Engineering.
The Federal University of Agriculture, Abeokuta, Ogun State, or FUNAAB, (FUNAAB) was established on 1 January 1988 by the Federal Government when four universities of technology, earlier merged in 1984, were demerged. This led to the creation of the first two universities of agriculture in Abeokuta and Makurdi.
On the same date, Professor Nurudeen Olorun-Nimbe Adedipe was appointed the pioneer Vice-Chancellor of the university. Professor Adedipe officially assumed duty on 28 January 1988. For many years the date which Professor Adedipe assumed duty was wrongly adopted as the foundation day. Following a revisit to the instrument setting up the university, a council decision at its 53rd statutory meeting in June 2010 reverted the foundation date to 1 January 1988 as prescribed by the law which established the university.
Federal University of Technology Minna (FUTMINNA) is a Federal Government established post-secondary educational institution located in Minna, Nigeria. FUTMINNA specializes in technological education. The University is a designated Centre of Excellence in Biotechnology and Genetic Engineering and has a core competence in the development of vaccines and drugs.
The Federal University of Technology Owerri is a federal government university located in Owerri West, the capital of Imo State. The University is bounded by the communities of Eziobodo, Umuchima, Ihiagwa and Obinze, in Imo State, Nigeria.
Tech-U is Nigeria's first and only technical university. The University began operations in 2017 with the Faculties of Engineering and Technology and Natural Sciences. The University has a total of 15 academic programmes approved by the National Universities Commission (NUC). Some of these programmes include Mechatronics Engineering, Biomedical Engineering, Food Science and Technology, Cyber Security, Computer Science, Software Engineering, Physics with Electronics, Petroleum Engineering, Industrial Chemistry and Statistics.
The University of Nigeria, commonly referred to as UNN, is a federal university located in Nsukka, Enugu State, Nigeria. Founded by Nnamdi Azikiwe in 1955 and formally opened on 7 October 1960, the University of Nigeria has four campuses – Nsukka, Enugu, and Ituku-Ozalla – all located in Enugu State and Aba campus in Abia State.
The University of Nigeria was the first full-fledged indigenous and first autonomous university in Nigeria, modeled upon the American educational system. It is the first land-grant university in Africa and one of the five universities in Nigeria with the highest reputation. The university has 15 Faculties and 102 academic departments. The University offers 82 undergraduate programs and 211 postgraduate programmes.
Yaba College of Technology, popularly known as YABATECH, was founded in 1947, and is Nigeria's first higher educational institution. It is located in Yaba, Lagos. It has a student enrollment of over 16,000.
Finally!
If you have made up your mind, the JAMB subject combination for Mechatronics Engineering is Mathematics, English, Physics and Chemistry.
We have just 17 Universities in Nigeria offering Mechatronics Engineering, for now. We hope to see more change as time passes by. I wish you the very best in your exams!
Tell us what you think about this article in the comment section. Don't forget to check out other articles before leaving. Thanks again for dropping by!
Be the first to let your friends know about this. Click the buttons below to share on Whatsapp, Facebook or Twitter.