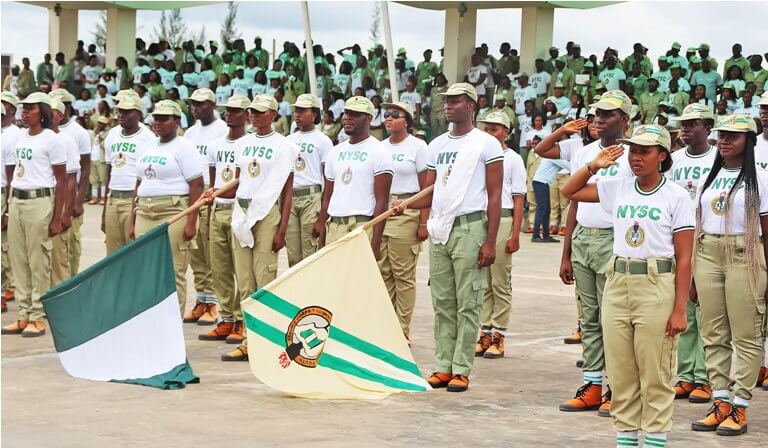 Be the first to let your friends know about this. Click the buttons below to share on Whatsapp, Facebook or Twitter.
All You Need To Know About NYSC
The National Youth Service Corps (NYSC) scheme was established by the then head of state, General Yakubu Gowon in Nigeria on 22nd of May, 1973. By the year 2000, years after the decree enabling its establishment was promulgated, a large and diverse segment of the Nigerian population as well as notable people around the world, commended its establishment and praised its operations and achievement, especially its significant role in promoting national unity, integration and rapid economic development of Nigeria.
NYSC was created to foster unity among Nigeria's about 250 ethnic groups and to create a sense of nationhood and selfless service among young people. There used to be two NYSC batches, namely batch A and batch B. However, with so many graduates waiting for NYSC call up, NYSC now have three batches, batch A, batch B, and batch C. The NYSC programmes runs for about 12 months and during that period, graduates of Universities and Polytechnics are deployed to serve in states that are not their state of origin. NYSC allowance currently stands at about N19,800, although there are serious moves to increase it.
Stages of NYSC Programme
The NYSC programme is divided into four main stages, namely:
NYSC Orientation
NYSC corps members are camped for three weeks in an NYSC orientation camp where they live a military-like regimented life. Events at NYSC camps include parades, Man 'O' War activities, and drills (every morning), Lectures on different topics like Entrepreneurship, Job search tips, self-employment, National security, Road safety, Firefighting, HIV/Aids, Environmental issues, NYSC aims, and so on are organized at the NYSC orientation camps for corps members. At NYSC orientation camp, corps members are divided into different groups called Platoons. These platoons compete against each other in activities like sports, dance, drama, beauty pageants, and so on.
NYSC Primary Assignment
After the camp, NYSC corps members are exposed to the challenges of everyday Nigeria. During Primary assignment, NYSC corps members are posted to organizations to work for about 10 months. Most corps members are posted to schools where they are expected to help in providing teaching services.
NYSC Community Development Service (NYSC CDS)
CDS is at the core of the NYSC scheme, each corps member is expected to belong to an NYSC community development (CD) group. During CD, NYSC corps members use their skills to offer selfless service to communities in which they are deployed. NYSC corps members usually focus their CDS on some challenging issues in their community of deployment, some include: Adult literacy; Charity visits to hospitals, prisons, old people's homes and children homes; Sanitation; construction/provision of basic infrastructure; and so on.
NYSC Passing-out Ceremony
Passing out ceremony is the last stage of the NYSC scheme. This consists of one or two weeks of events, which ends with a passing out parade. Events usually take the format of lectures on some topics similar to the one at the NYSC orientation camps but focus is on preparing NYSC corps members for the challenges they will face in Nigeria. Lectures focus on issues like Self-employment, Entrepreneurship, preparing winning CVs/resumes, Tips on Job interviews, and such related topics. NYSC secretariats use this period to study experiences of corps members with the scheme. NYSC corps members (mostly those posted in state capitals) also practice for the passing out parade during this period. After passing out parade, NYSC discharge certificate is issued to successful corps member. For all successful NYSC corps members, a chapter has just ended and a new chapter is about to begin.
NYSC Registration Procedure
The stages of registration are as follows:
Submission of call up letters (call up letter must not be laminated)
Presentation of your last institution ID card for screening
Presentation of your original certificate/statement of results for screening.
 After screening of the above, candidates will be issued the following:
State code number, which is exclusive
A meal ticket (card)
A file to house the call up letters, photocopies of credentials and other NYSC forms which are expected to completed.
NYSC Meal Tickets/Feeding
Corps members are centrally fed throughout the orientation period. Upon the completion of registration, meal tickets are issued to corps members.  Corps members are called upon to participate in cooking and serving of food on platoon basis.
NYSC Accommodation on Camp
Accommodation is provided on the basis of first come, first serve. Note that it is the duty of corps members to take proper care of their mattress, and ensure that the hostels are clean throughout the period of the orientation course.
Orientation Broadcasting Service (OBS)
The OBS is the only recognized media outfit at the camp. This service is designed for corps members where camp news, events and announcement are relayed to them. The OBS functions are carried out by corps members. Mostly by the mass communication and English graduates plus the graduates from allied disciplines as well as those who have interest. Technicians are also very much needed to facilitate the smooth running of the OBS.
NYSC Discipline System
Discipline is the bedrock on which orderliness; progress of any individual, community or nation is assured. Any act of indiscipline during the orientation and indeed throughout the service year treated with appropriate sanction.
NYSC Security
Every camp resident has a responsibility to be vigilant and security conscious. Corps members are advised to take proper care of their valuables. The NYSC management has no policy which offers replacements of or compensation for lost items. The police have the primary duty to protect life, property and ensure general security on the camp. Corps members are advised to co-operate with the law enforcement officers.
NYSC ID Card
The importance of identity card cannot be overemphasized. It is a document which each corps member must carry at all times. It must be produced on demand, if lost; an official report must be made by the bearer to the camp director. ID cards are however replaced on payment of a fee of 200 naira and submission of police reports, a court affidavit and an application letter.
NYSC Medical Care
24hrs medical care is provided on camp at the camp clinic manned by corps doctor, nurses, pharmacists, etc. Corps members are warned against self-medication except if prescription is by personal physician.
NYSC Camp Market 
At the orientation camp, there is the price monitoring committee charged with the task of ensuring that traders sell quality products at reasonable prices to the corps members.
NYSC Socials
The NYSC organized activities in which people meet for pleasure after the day's rigorous activities.
NYSC Relocation/Redeployment
This is the process by which corps members seek to leave one state for another. This can only be approved on the grounds of ill health (given by a certified medical practitioner) and in marriage cases. See our article on NYSC redeployment for other reasons you might be permitted to relocate.
NYSC Redeployment: Application Guide and Approval Procedure
NYSC Absence Permit
Corps members must obtain absence permit before going out of camp. The camp director gives absence permit when necessary and such corps members should go out in their NYSC uniform.
Religious Activities at Orientation Camp
Corps members are allowed to practice their religion at the orientation camp.
Prominent Activities on Camping
They are as follows:
Military parades/drills.
Man O' war activities.
Social activities (football, marching, volleyball)
Endurance trek
Full Checklist Of Items You Might Need
Documents
The documents that would be required when travelling for NYSC include;
Call up letter (original + 5 photocopies)
Duly signed green card (original + 5 copies)
School Identification Card (Original + 3 copies)
Statement of Result (Original + 3 copies)
Passport Photographs (20 copies)
Certificate/ Licenses for Medical Doctors, pharmacists and Optometrists (Original + 5 copies)
Medical Clearance (Original + 3 copies)
File/File bag (1)
Stationery
Glue/Gum
Paper/Jotter
Pen
Permanent marker
Small stapler and staple pins
Tippex
Clothing
Home/Juma'at/Sunday wears
Underwear
Carnival/Cultural night wear
Plain white sneakers/ tennis shoes (1 rubber + 1 tennis material)
White Shorts/knickers
White socks
Cash and ATM card
Daily Needs
Bible/Quran
Antiseptic/Disinfectants (e.g. Dettol)
Bathing soap
Bathing sponge
Sponge case
Towels
Pegs
Toilet paper
Bucket and bailer
Toothpaste
Toothbrush
Deodorant/ perfumes
Bedsheets
Blanket
Pillowcase
Pillow
Beverages (Bournvita, Cereals, Milk, Lipton, Coffee)
Bleach (Hypo or Jik)
Body Cream and Lotion
Washing Soap (Detergent and bar soap)
Camera and Batteries
Cardigan (Plain white)
Chargers
Earpiece/Headphone
Cloth Hangers (2-4)
Combs and other hair needs eg cream, gel, hairbrush
Food flask
Cutleries (Spoon, fork, bowl (saucer) and cup)
Fast foods (gala, indomie, chinchin, biscuits)
Handkerchief/face towel
Makeup and accessories
Mosquito treated net/Repellent
Novels/Books
Padlocks
Pegs/Clips
Polish and Brush
Power bank
Protection
Sanitary pads and tampons
Sower caps
Slippers
Umbrellas
Smartphone
Face wipes
Sunglasses
Surge protectors/extensions
Torchlight/flashlight/rechargeable lamps
Waist pouch/bag
Wristwatch
Optional First Aid Items
Allergy medicine
Antibiotics
Anti-malaria pills
Anti-purging pills (Flagyl, Tetracycline)
Band-aids/plasters
Pain killers (Paracetamol)
Cotton wool
Inhaler (for asthmatic patients)
Menstrual pain drug
Methylated Spirit/rubbing alcohol
Nausea Relief Drugs
Robb
Was this informative enough? Please share your opinion via the comment section! Also feel free to check out other related articles!
Be the first to let your friends know about this. Click the buttons below to share on Whatsapp, Facebook or Twitter.