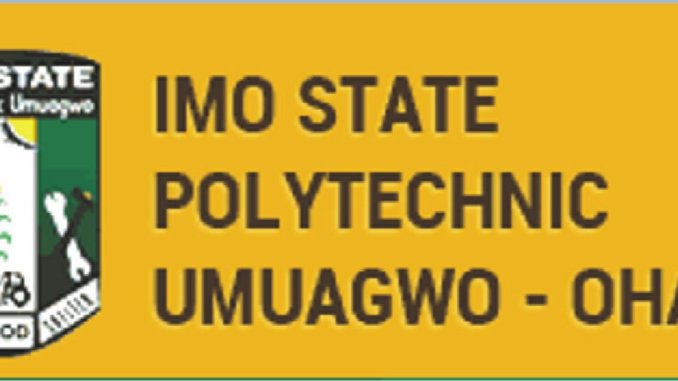 2020: List of Courses Offered in Imo Poly and Their Cut Off Marks
This is to notify all aspirants that chose IMO Poly as their preferred polytechnic choice of the Jamb Cut Off Mark for all courses. If you have been searching for: [courses offered in imo poly and their cut off marks, imo poly cut off mark 2020, imo state polytechnic school fees, IMO Poly cut off mark for all department, imo poly school fees, imo state polytechnic, jamb cut off mark for polytechnic, imo state polytechnic departmental cut off mark, courses offered in imo poly and their cut off marks, Imo State Polytechnic JAMB & Departmental Cut Off Marks 2020/2021, Imo Poly cut off mark for Engineering; Imo Poly cut off mark for accountancy; Imo poly cut off mark for computer science], then your search is over. Scroll down and ENJOY
Courses Offered in IMO Poly and Their Cut Off Marks
Accountancy – 100
Agricultural Engineering / Technology  – 100
Agricultural Technology   – 100
Animal Health and Production Technology  – 100
Banking and Finance  – 100
Business Administration and Management  – 100
Computer Science  – 100
Cooperative Economics and Management  – 100
Electrical / Electronic Engineering  – 100
Estate Management and Valuation  – 100
Fisheries Technology  – 100
Food Technology  – 100
Forestry Technology   – 100
Marketing  – 100
Mechanical Engineering Technology  – 100
Nutrition and Dietetics  – 100
Office Technology and Management  – 100
Public Administration  – 100
Statistics  – 100
Note that these cut off marks are strictly based on the overall performance of all applicants. If you are applying for a competitive course like Engineering, Accountancy, etc. you should try to score as high as possible in order to increase your chances of securing admission. However, if you scored lower than 120 and you applied for a competitive course, it is advisable to buy change of course form in order not to lose out from the admission completely.

More so, if your course of choice is not on the list, you can always let us know via the comment box and we would reply at our earliest convenience.

Thank you so much for reading this article. I bet it was useful to you. Don't forget to share it with your friends! We wish you success in all your applications.
Related Articles:
School Hostel Versus Off-campus Hostels: Which is Better?
UNIBEN Student Set Herself Ablaze While Trying To Cook
List of Ongoing Abroad Scholarships for Undergraduate and Master Students
Preparing For Life After School: 5 Crucial Steps