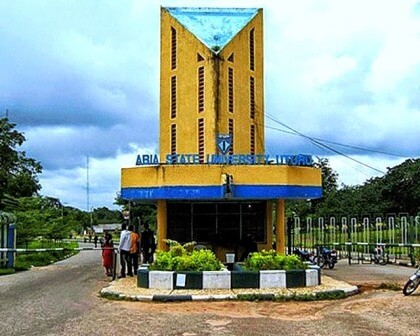 Be the first to let your friends know about this. Click the buttons below to share on Whatsapp, Facebook or Twitter.
2020 List of Courses Offered in Abia State University & Cut Off Marks
In this article titled "Courses Offered in ABSU and cut off mark", we will look into the full list of courses offered in Abia State University (ABSU), the official Jamb cut off mark for all the courses offered by ABSU, ABSU admission requirements, etc. The courses are arranged based on the different faculties in the institution. Without much talk, let's get to it!
Courses Offered in ABSU
Faculty of Medicine/Pharmacy/Health-Science
Medicine and Surgery
Nursing Science
Optometry
Faculty of Law
Faculty of Social Sciences
Geography
Geography and planning
Government and Public Administration
Political Science
Sociology
Mass Communication
Hospitality and Tourism Management
Library and Information Science
French
Banking and Finance
Faculty Engineering
Architecture
Banking and Finance
Building Technology
Building Technology
Environmental Resources Management
Estate Management
Geography and Planning
Urban and Regional Planning
Faculty of Education
Business Education
Education and Accountancy
Education and Economics
Education and Mathematics
Education and Physics
Education and Religious Studies
Education and Biology
Education and Chemistry
Education and English Language
Education and French
Education and Geography
Education and Government
Education and History
Education and Igbo
Education and Political Science
Education and Social Studies
Education Fine Art
Agricultural Science and Education
Educational Management & Planning
Educational Management and Planning
Guidance & Counseling
Home Economics and Education
Library Science
Faculty of Administration
Accounting
Business Administration
Economics
Marketing
Faculty of Agriculture
Agric- Economics and Extension
Animal Science and Fisheries
Crop Production and Protection
Food Science and Technology
Plant Science and Technology
Faculty of Sciences
Biochemistry
Chemistry and Industrial Chemistry
Mathematics
Microbiology
Pure and Industrial Physics
Statistics
Zoology
ABSU JAMB Cut Off Mark For All Courses
The official JAMB cut off mark for ABSU is pegged at 180 for lesser competitive courses, 200 and above for competitive courses. Just as we always advise, ensure you strive for a higher mark in order to increase your chances of getting admitted. Below is the cut off mark for various courses offered in ABSU.
Faculty Of Business Administration
Accountancy – 200
Banking & Finance – 200
Economics – 180
Management – 200
Marketing – 200
Public Administration – 200
Faculty Of Agriculture
Animal Science & Fisheries – 190
Agric. Economics & Extension – 190
Crop Production & Protection – 180
Soil Science – 180
Food Science & Technology – 190
Faculty Of Education
Education/Government – 180
Education/Accountancy – 180
Education/Administration & Planning – 180
Education/Agricultural Science – 180
Education/Business Studies – 180
Education/Chemistry – 180
Education/Economics – 180
Education/Management & Planning – 180
Education/English & Literature – 180
Education/Foundations – 180
Education/French – 180
Education/Guidance & Counselling – 180
Education/History & International Relations – 180
Education/Igbo – 180
Education/Library Science – 180
Education/Mathematics – 200
Education/Geography – 180
Education/Integrated Science – 180
Education/Physics – 200
Education/Political Science – 180
Education/Religion – 180
Education/Fine & Applied Arts – 180
Education/Social Studies – 180
Education/Biology – 200
Education/Home Economics – 180
Faculty Of Biological & Physical Sciences
Animal & Environmental Biology – 200
Industrial Chemistry – 200
Biochemistry – 210
Industrial Physics – 200
Mathematics – 200
Microbiology – 200
Plant Science & Biotechnology – 220
Statistics – 200
Faculty Of Environmental Sciences
Architecture – 220
Building Technology & Civil Engineering – 190
Environmental Resources Management – 200
Estate Management – 200
Fine & Applied Arts – 200
Urban & Regional Planning – 200
Geography & Planning – 210
Faculty Of Law
Faculty Of Medicine
Dentistry – 210
Medicine & Surgery – 240
Nursing Science – 220
Optometry – 200
Faculty Of Humanities & Social Sciences
English Language & Literature – 200
Foreign Language & Translation Studies – 190
Government & Public Administration – 200
History & International Relations – 200
Igbo – 180
Linguistics & Communication studies – 200
Library & Information Science – 200
Information Science – 200
Mass Communication – 200
Religious Studies – 190
Sociology – 200
Political Science – 200
French – 160
Philosophy – 180
ABSU Admission Requirements
Candidates must meet up with the above stipulated cut off mark.
All candidates must have a minimum of five (5) credit passes their O'level results which must include Mathematics and English language.
Combination of WAEC and NECO is accepted by ABSU, but it is always advised to either use WACE/WAEC or NECO/NECO combination.
ABSU Second Phase Screening for Admitted Students
Once you are successfully admitted into ABSU, you will have to pass through the second phase of screening. This process will determine if you have the necessary credentials for your course of choice. The documents required for this exercise are:
Birth Certificate or Age Declaration
Certificate of Local Government of Origin
Original copies of your credentials (certificates and statements of result)
Letter of good conduct.
O'Level Result Certificate (WAEC/NECO) OR an online version of the result.
State of Origin Certificate
JAMB Admission Letter (Institution Copy – Coloured and photocopy)
Was this article useful? I bet it was. Guess what? You would love what you'll see in our Study Guide Tag. Check it out and thank me later! Have a question? Use the comment box and refresh the page after 30 seconds to get an answer!
Related Articles: 
School Hostel Versus Off-campus Hostels: Which is Better?
Dealing With Low Self-Esteem As A Student
What Are The Documents Required For First Year Clearance?
List of Resumption Items For First Year Students
Be the first to let your friends know about this. Click the buttons below to share on Whatsapp, Facebook or Twitter.