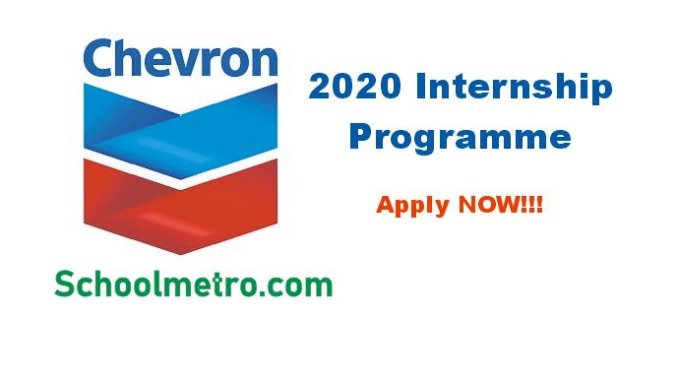 Be the first to let your friends know about this. Click the buttons below to share on Whatsapp, Facebook or Twitter.
2020 Chevron  Internship Application: Full Guide
This is to notify all students in their penultimate level (300 and 400 Levels) that Chevron Nigeria Limited is recruiting internship students for temporary employment. This offer is open to university, polytechnic and high school students that are required to participate in mandatory learning programs to gain work experience in their chosen career and also provides an opportunity for interns to learn about the company's business, culture and core values. If you've been searching for "2020 Chevron Internship Application" procedure, then scroll down and feed your eyes.
Eligibility:
Candidate must be a Nigerian
The internship must be mandatory to complete the school's program leading to Bachelors, Masters' Degree or Diploma as applicable
Demonstrated high level of academic performance
Good communication, leadership, teamwork and problem-solving skills
Strong work ethic with an internal drive to succeed
What you stand to gain:
An innovative workplace where we apply the latest technologies to exploration, production, reservoir management, and the entire value chain group.
Opportunities to enable you to use what you have learned, expand your knowledge and benefit from invaluable on-the-job experience.
Hands-on technical exposure which will expand your knowledge of the industry and accelerate your professional development.
An effective environment where integrity and ingenuity are valued.
How to apply:
Click the Apply button
Create an account
Upload your current resume
Upload your Student Industrial Work Experience Scheme (SIWES) letter or support letter from your institution using the "cover letter" tab.

If possible the letter from your institution should state:

–  your Cumulative Grade Point Average (CGPA)
–  expected start date and duration of the internship

Upload a separate statement from your institution showing the CGPA and any additional document on the "additional document" tab.
Provide responses to all the fields on your Profile
Type NIL in the "previous employment" box, if you have no experience otherwise state your previous internship details
Select the field related to your course of study in the "preferred type of work" box
Respond to all the questions as required
Click the apply button to complete your application
You will receive a confirmation e-mail
Read: 2020 Chevron Internship Application Guide
Required Application Information:
The following fields are mandatory and must be fully completed. Not completing them may disqualify your application.
Email
Mobile Number
Institution
Academic Discipline
Degree
State your Internship start and end dates
Note:
The application for this internship is done online
This is only available for students whose internship program commences from July to December 2020.
Internship placement is available in Lagos and Warri branches.
Only Nigerian undergraduates schooling in Nigeria are required to write the tests.
Your application is complete only when you receive an email with the subject, "Thank you your resume was successfully submitted"
Was this helpful? I bet it was. Don't forget to share with friends. For more info, please holla us via the comment box and we will be more than glad to help out.
Related Articles:
School Hostel Versus Off-campus Hostels: Which is Better?
UNIBEN Student Set Herself Ablaze While Trying To Cook
List of Ongoing Abroad Scholarships for Undergraduate and Master Students
Preparing For Life After School: 5 Crucial Steps
Be the first to let your friends know about this. Click the buttons below to share on Whatsapp, Facebook or Twitter.