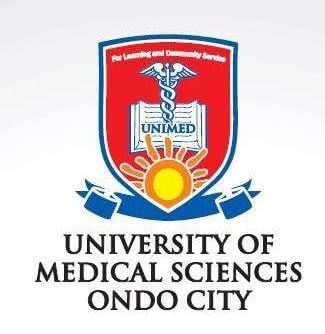 Be the first to let your friends know about this. Click the buttons below to share on Whatsapp, Facebook or Twitter.
UNIMED Post UTME/DE 2020 Form Is Out
Applications are invited from suitably qualified candidates for admission into the University of Medical Sciences, Ondo State various degree programmes for the 2020/2021 academic session. The UNIMED Post UTME 2020 is finally out.
The University of Medical Sciences (UNIMED), Ondo, Ondo State is the first specialized University of Medical Sciences established in 2014 with the mission to foster excellence in teaching, research, and service delivery in all health science disciplines. Since its establishment, the University has created a niche for itself in being one of the few public universities with a stable uninterrupted academic calendar and exceptionally high-quality educational delivery. The University hereby invites all eligible candidates to apply for admission for the 2020/2021 Academic Session into the following Faculties / Disciplines:
Courses Offered by Ondo State University of Medical Sciences
Faculty of Clinical Sciences
Medicine and Surgery
Faculty of Dental Sciences
Dentistry
Faculty of Basic Medical Sciences
Anatomy
Biochemistry
Physiology
Faculty of Allied Health Sciences
Physiotherapy
Medical Laboratory Science
Faculty of Nursing Science
Nursing Science (B.NSc.)
Faculty of Science
Physics (Electronics and Medical Physics Options)
Chemistry
Biological Sciences (Animal & Environmental Biology; Microbiology; Plant Biology and Biotechnology Options)
Mathematics
UNIMED Post UTME 2020 Eligibility.
Candidates who made the University of Medical Sciences, Ondo their first and second choices in the 2020 UTME and scored 180 and above are eligible for the screening. In addition, candidates who did not choose the University of Medical Sciences, Ondo and are willing to change to the University are also eligible for the screening.
Candidates must possess five (5) credit passes at one sitting in relevant O/level subjects including English Language and Mathematics for the MBBS/BDS programme and not more than two sittings in relevant O/Level subjects including English and Mathematics for other programmes in the University.
Direct entry candidates who have already applied to JAMB and who possess minimum of 10 points in relevant 'A' level subjects or a B.Sc. (Hons) degree in the basic medical or biological sciences with a minimum of second class (lower division) are also eligible to apply for Medicine and Surgery and Dentistry Courses.
UTME/JAMB Subject Combination
All courses in Faculties require English Language, Physics, Chemistry, and Biology in UTME. Candidates in Mathematics require English Language, Physics, Chemistry, and Mathematics or Biology in the UTME.
How to Apply for UNIMED Post UTME Form 2020
Eligible candidates should log on to University website.
Then, take the following steps:
Click on "Admission"
Click on "Post-UTME" to access the Post UTME Portal
Click on "Payment" to make payment via an online payment system using VISA or MASTER Card. Note that VERVE Card is not allowed;
After payment, Print Payment Receipt
On Post-UTME Portal, Click on "Application Form" with your UTME Registration Number and Payment Transaction ID to complete the screening form.
For more details on payment and application, check the University's website. Payment is only via the UNIMED payment platform. On no account should candidates make payment to any unauthorized account. Please seek clarification in case of doubt.
UNIMED Post UTME and Direct Entry Screening Schedule.
Screening Exercise Dates: 25th – 27th November 2020 beginning from 7.00 am daily.
However, candidates are to print out their exact date and time of screening later from the portal
Also Note That:
All candidates are requested to bring along the following items to the screening venue:
JAMB UTME Notification of Results or Registration Slips for Direct-Entry Candidates;
A printed copy of the completed 2020/2021 Admission Screening slip.
Direct Entry Candidates are to forward their Transcript directly to the Registrar, University of Medical Sciences.
For more information or clarifications, candidates are advised to visit the University website, www.unimed.edu.ng, send an e-mail to [email protected], or call the following phone numbers: +234-706-957-3618, +234-905-826-3636.
Any candidate who fails to present himself/herself for the Admission Screening Exercise will NOT be considered for admission.
Disclaimer
Kindly note that the University does NOT have individual/sales agents. For the avoidance of doubt, valid and authentic details about admissions into the programmes offered by UNIMED can be obtained only at the University's administrative office and at the University's website.
Kindly note also, that valid payments for the purchase of forms can only be done as described above and NOT into any individual's account. Anyone who deals with any individual and/or makes payment(s) into any individual's account does so at her/his own risk!
Also Read:
Michael Okpara University of Agriculture, Umudike (MOUAU) Post UTME 2020 Is Out
UNIBEN Post UTME Form For 2020/2021 Academic Session Is Out
Be the first to let your friends know about this. Click the buttons below to share on Whatsapp, Facebook or Twitter.