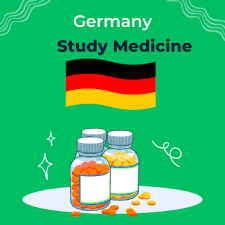 Be the first to let your friends know about this. Click the buttons below to share on Whatsapp, Facebook or Twitter.
Study Medicine in Germany: Entry Requirements and Free Tuition Scholarships
Introduction
Germany has emerged as a beacon of opportunity for aspiring medical students worldwide who intend to study in this country tuition-free, offering high-quality education without the burden of exorbitant tuition fees. This article aims to provide a comprehensive overview of studying medicine in Germany, covering crucial aspects such as entry requirements, financial implications, and the advantages and challenges of pursuing a medical degree in this European powerhouse.
how true? read more
Free Tuition and Education System
Higher education in Germany is predominantly state-funded, rendering it virtually cost-free for both domestic and international students. While some universities may charge nominal administrative fees, the consensus reached in 2014 has made education accessible in all 16 German states.
General Entry Requirements 
Entry criteria for medical programs in Germany vary depending on the university and the chosen course. Application deadlines also differ, with most medical schools observing two application periods – 15 July for the upcoming winter semester and 15 January for the upcoming summer semester.
Although most degrees are tuition-free, medicine programs may entail certain costs, especially at private universities or in specific states like Baden-Württemberg. Prospective students must also meet prerequisites, including language proficiency in German and English, a strong foundation in biology, chemistry, and physics, and the ability to manage the intensive workload.
Admission Requirements for Medical Studies 
German Language Skills: A high proficiency in German, demonstrated by a strong TESTDAF or DSH score, is essential.

Strong Knowledge of English: Proficiency in English, alongside a helpful understanding of Latin, is beneficial.

Pre-requisite Subjects: Extensive knowledge of biology, chemistry, and physics from high school is a requirement.

Coping with Stress: Medical programs can be demanding, necessitating the ability to handle stress effectively.

Examinations: Some universities may require non-EU students to provide TESTAS exam results, while the TMS is voluntary but advantageous.

Student Visa: Non-EU students may need a student visa and residence permit, which necessitates a medical certificate.
Financial Implications
To plan for studying medicine in Germany, students should consider the following financial aspects:
Average Cost of Living: €850 per month.

Average Administration Fees: €300 annually.

Average Tuition Fees: €1,500 to €3,500 per academic year.

Blocked Amount: €8,640.

Monthly Gym Membership: €20.
Medical Graduate Average Earnings
Upon graduation, medical professionals in Germany can expect the following average earnings:
Graduate Yearly Salary: €33,000 to €58,000.

Specialists: Around €80,000 per year.

Physicians: Over €100,000 per year.
Top-Ranked Medical Schools in Germany
Germany boasts several esteemed institutions offering medical courses. Some of the top-ranked medical schools include:
Witten/Hercke University

Magdeburg University

Münster University

Würzburg University

Tübingen University

Freiburg University

Leipzig University
Advantages of Studying Medicine in Germany
Future Prospects: Graduates can stay in Germany for an additional 18 months to seek employment opportunities.

Student Work Opportunities: EU students face no work limitations, while non-EU students may apply for a work permit.

Industry-Affiliated Learning: Universities collaborate with companies to provide students with valuable internships.
Disadvantages of Studying in Germany
Structure of the Course: Academic regulations and independent study may pose challenges.

Learning the Language: A strong command of German is crucial for a successful medical education.

Working Limits: Non-European students face restrictions on working hours.

Financial Constraints: While tuition is free, students must demonstrate financial stability.
What You May Not Know
Important details often overlooked include:
Medical studies are conducted in German.

The program spans six years and three months.

Main admission requirements involve a high school diploma and German language skills.

Non-EU students have specific work limitations.

Application deadlines vary between semesters.
Conclusion
Studying medicine in Germany offers a unique opportunity for international students to receive top-tier education tuition-free. By understanding the entry requirements, financial considerations, and potential challenges, aspiring medical professionals can embark on a rewarding educational journey in this innovative and culturally rich country.
Recommended:
Cheapest Canadian Universities for International Students
Top Jobs for International Students in Canada
Be the first to let your friends know about this. Click the buttons below to share on Whatsapp, Facebook or Twitter.