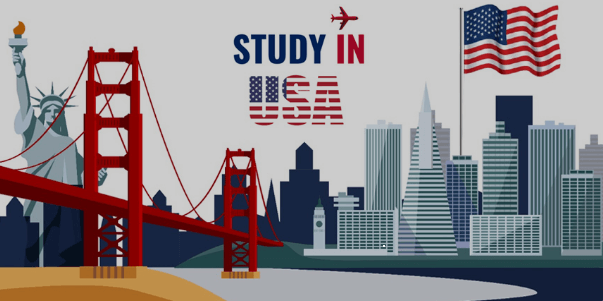 Be the first to let your friends know about this. Click the buttons below to share on Whatsapp, Facebook or Twitter.
 Navigating the Path to Study in the US: A Comprehensive Guide
Are you looking at the opportunity to study in the US? We have detailed a creative write-up on the Path to Study in the US. This promised to be a great read and will aid you in your pursuit.
The allure of studying in the United States is a dream shared by many international students around the world. With over 250 esteemed universities and colleges listed in the latest rankings by Times Higher Education, US News, and TopUniversities, the opportunities for higher education in the US are abundant.
Approximately one million international students make the choice to pursue their education in the "land of the free and home of the brave" each year. However, the journey to securing a spot at a US institution can seem daunting. In this guide, we'll walk you through the steps and approaches to successfully navigate the application process.
Choosing the Right University
When embarking on your study abroad adventure, it's essential to consider which universities align with your academic and personal aspirations. Here are some esteemed institutions to consider:
– University of California, Berkeley
For those seeking online Master's degrees, options like Walden University and Kettering University Online offer flexibility and quality education.
Preparing the Application
Most universities provide the option to apply directly through their websites. It's crucial to carefully read and understand the specific requirements of each institution.
Some may require standardized tests such as GRE, GMAT, MCAT, or LSAT, while others may ask for additional documents like writing samples, portfolios, or lists of patents. Applying to 3-5 universities can increase your chances of admission.
Application fees typically range from 75-100 USD, but if financial constraints are a concern, don't hesitate to reach out to the university or program directly.
International students must also demonstrate proficiency in English. Acceptable tests include IELTS Academic, PTE Academic, C1 Advanced, TOEFL iBT, or Duolingo. Be sure to have the necessary certificates available.
Meeting Language Requirements
To thrive in a US university, demonstrating proficiency in English is crucial. Most institutions accept scores from standardized tests like IELTS Academic, PTE Academic, TOEFL iBT, C1 Advanced, and Duolingo. Minimum score requirements vary, so verify the specific expectations of your chosen program.
Assembling Application Documents
While the required documents may vary from one university to another, there are several common items you are likely to need:
– Transcripts or records of grades (high school and/or university)
– Résumé/CV
– Test scores (SAT, ACT, GRE, GMAT)
– Proof of English-language proficiency
– Motivation letter or statement of purpose
– Application fee
– Writing sample
– Passport photo
Navigating Application Deadlines
For undergraduate programs, universities generally offer early admission and regular admission deadlines. Early deadlines for fall admission are typically in October to November of the previous year, while regular admission deadlines fall between February and March of the same year. Post-graduate applicants' deadlines depend on the semester they plan to enroll in.
Celebrating Acceptance and Beyond
Upon receiving your acceptance letter, congratulations are in order! If you're not a US citizen, use the letter to apply for an F-1 student visa. Take time to explore funding and scholarship opportunities, and check if an enrollment fee is required. Finally, choose your housing option, be it on-campus or off-campus, and prepare to embark on this exciting academic journey.
Embarking on a path to study in the US is a significant step towards achieving academic and personal growth. By following these steps and guidelines, you'll be well-equipped to navigate the application process and embark on a transformative educational experience in the United States.
Also Read:
 Harvard Business School Admission Process
Cheapest Canadian Universities for International Students
Be the first to let your friends know about this. Click the buttons below to share on Whatsapp, Facebook or Twitter.