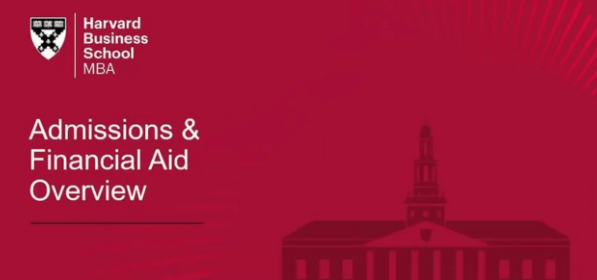 Be the first to let your friends know about this. Click the buttons below to share on Whatsapp, Facebook or Twitter.
 

Harvard Business School Admission Process
Are you interested in getting a good Masters degree in the prestigious Havard Business School? Then it will be good for you to take a look at the Havard Business School Admission process we detailed here for you.
About Harvard Business School
Harvard Business School (HBS), nestled within the prestigious Harvard University, stands as a beacon of excellence in business education. Established in 1908, this institution has nurtured the minds of 12,583 students from an astounding 146 countries. Offering a spectrum of programs including a two-year MBA, 99 executive programs, and various doctoral courses, HBS has carved a niche for itself in the realm of business education.
Admissions: A Glimpse into Excellence
For MBA aspirants, HBS mandates a bachelor's degree with an impressive GPA of 3.6 (91%) and a substantial five years of professional experience. PhD hopefuls must hold an undergraduate degree, meeting the 80th percentile criteria. A high GMAT score, ranging from 540 to 790, is also expected from applicants.
Investing in Education
Prospective students should anticipate an expense of up to 89,000 USD (73.01 lakhs INR) for tuition fees at Harvard Business School. However, this investment reaps rich rewards, with graduates reporting a median base salary of a staggering 175,000 USD (1.43 crore INR). The doors opened by an HBS degree lead to coveted positions in global giants like Microsoft, Amazon, Apple, and more.
Global Recognition: Rankings Speak Volumes
HBS consistently secures its position among the top 5 business schools worldwide, as acknowledged by revered ranking agencies. In 2023, it clinched notable positions, including
#5 in Best Business Schools by U.S News and World Report
#1 in Management by U.S News and World Report
#4 in Global MBA by Financial Times
#4 in MBA Rankings by The Economist
Programs: A Diverse Learning Landscape
HBS offers a diverse array of programs, ranging from a comprehensive 2-year MBA to specialized master's programs and online courses. With 74 executive education courses spanning various disciplines, HBS caters to both individual learners and organizations.
Campus: A Hub of Intellectual Exchange
Spread across 40 acres, the HBS campus is a self-contained haven of learning, boasting 33 buildings. This environment fosters interaction with faculty outside the confines of a classroom, enhancing the overall educational experience.
Student Life: Beyond the Classroom
With over 95 clubs and more than 200 leadership positions, HBS encourages students to explore their interests and develop leadership skills. The Student Association organizes workshops, conferences, and talks, providing avenues for learning, networking, and socializing.
Accommodations: A Home Away from Home
Over 65% of HBS students reside on campus, enjoying a range of housing options provided by the school. The costs, ranging from 16,200 to 31,500 USD (13.29 to 25.84 lakhs INR) for nine months, vary based on the type of accommodation.
Financial Support: Nurturing Talent
HBS is committed to ensuring that financial constraints do not impede education. Scholarships, grants, and fellowships are available, with approximately 50% of the student body benefiting from some form of financial aid.
Placements: Launching Careers to New Heights
HBS organizes numerous career fairs, enabling students to connect with prospective employers. A remarkable 95% of job-seeking students from the class of 2022 received placement offers, with 90% accepting them. The median base salary of HBS graduates stands at 175,000 USD (1.43 crore INR).
Alumni: A Legacy of Leadership
The HBS alumni community, comprising 89,000 members across 173 countries, continues to make an impact globally. Notable figures include Ratan Tata, Anand Mahindra, Sheryl Sandberg, and George W. Bush, to name a few.
Admissions Requirements
If you have a proven track record of business success and leadership potential, then HBS Executive Education may be right for you. Because we admit applicants on a rolling, space-available basis, you are encouraged to submit your application as soon as possible.
In accordance with Harvard University policy, Harvard Business School does not discriminate against any person on the basis of race, color, sex or sexual orientation, gender identity, religion, age, national or ethnic origin, political beliefs, veteran status, or disability in admission to, access to, treatment in, or employment in its programs and activities.
Application Details for Havard Business School Admission Process 
Be the first to let your friends know about this. Click the buttons below to share on Whatsapp, Facebook or Twitter.