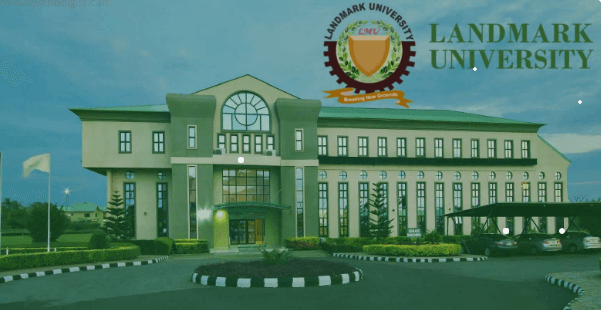 Be the first to let your friends know about this. Click the buttons below to share on Whatsapp, Facebook or Twitter.
Landmark University's Courses, School Fees And  Requirements
If you're an applicant who admires Landmark University and would love to study there, then you may be interested in learning about Landmark University's Courses, School Fees, and Requirements.
About Landmark
Landmark University is a private Christian university, affiliated with the Living Faith Church Worldwide headed by Bishop David Oyedepo and located in Omu-Aran, Kwara State, Nigeria. In 2014, it was featured among the top five universities in Nigeria by Webometrics.
Landmark University (LMU) was established on March 21, 2011, with the purpose of creating an institution towards the realization of the Agrarian revolution. The chancellor of Landmark University has often highlighted that the University is aimed at improving the agricultural sector of Nigeria and Africa at large.
LMU is licensed by the National Universities Commission (NUC) and other relevant professional bodies to run undergraduate programmes in the colleges of Agricultural Sciences; Sciences and Engineering; Business and Social Sciences.
International students can also apply for the programmes offered. Currently, Landmark Universities ranks as the 11th best University in the country, and 4,332 in the world by 4ic.org.
This talked-about higher-education institution has a selective admission policy based on entrance examinations and students' past academic records and grades. The admission rate range is 60-70%. International applicants are eligible to apply for enrollment.
LMU also provides several academic and non-academic facilities and services to students including a library, housing, sports facilities and/or activities, financial aids and/or scholarships, as well as administrative services.
Courses Offered At Landmark University:
THE COLLEGE OF AGRICULTURAL SCIENCES
1) B.Agric Agricultural Extension & Rural Development
2) B.Agric Agricultural Economics
3) Animal Science
4) Soil/Crop Science
COLLEGE OF SCIENCE AND ENGINEERING
School of Engineering
1) Agriculture & Biosystems Engineering
2) Chemical Engineering
3) Civil Engineering
4) Electrical and Electronics Engineering
5) Mechanical Engineering
B) School of Sciences;
1) Biochemistry
2) Microbiology
3) Computer Science
4) Industrial Chemistry
5) Mathematics
6) Physics
THE COLLEGE OF BUSINESS AND SOCIAL SCIENCES;
A) School of Business;
1) Accounting
2) Banking & Finance
3) Business Administration
B) School of Social Science;
1) Economics
2) International Relations
3) Political Science
4) B.Sc. Sociology
Landmark University (LMU) School Fees Schedule
Acceptance fee
Landmark acceptance fee is the sum of N10,000 (Ten Thousand Naira) only, paid into Landmark's bank account. And it's also non-refundable.
Breakdown of Landmark University School Fees in Naira:
Below is the breakdown of the school fee schedule for Nigerian students;
Agric Courses N595,000
Agric Engineering N645,000
Engineering Courses N675,000
Biochemistry N577,000
Computer Science N615,000
Chemistry N556,000
Industrial Mathematics N556,000
Industrial Physics N556,000
Accounting N605,000
10. Banking And Finance N545,000
Business Administration N545,000
Economics N585,000
International Relations N565,000
Political Science N532,000
Sociology N532,000
Breakdown of Landmark University School Fees in Dollars
Below is the breakdown of the school fees schedule for international students;
Agricultural Courses 1,944 dollars
Agricultural Engineering 2,108 dollars
Engineering Course 2.206 dollars
Biochemistry 1,885 dollars
Computer Science 2,010 dollars
Chemistry 1,817 dollars
Industrial Mathematics 1,817 dollars
8. Industrial Physics 1,817 dollars
Accounting 1,977 dollars
Banking and Finance 1,781 dollars
Business Administration 1,781 dollars
Economics 1,912 dollars
International Relations 1,846 dollars
Political Science 1,738 dollars
Sociology 1,738 dollars
Landmark University Postgraduate School Fee Schedule
For those who are in postgraduate studies, their school fee is not the same as those of undergraduates. Below are the breakdown of the postgraduate school fee schedule;
Postgraduate Diploma ₦420,000.00
Master's Degree ₦520,000.00
Doctor of Philosophy ₦625,000.00
Important Note: There is a fee of N100,000 (Hundred Thousand Naira) for accommodation fee, but is actually optional for all students.
Landmark University's Admission Requirements
General Requirements
The minimum entry requirements for admission into Landmark University are credit passes in 5 subjects at the SSCE/GCE O' Level/NECO/NABTEB or its equivalent obtained at not more than two sittings. The subjects passed must include English Language, Mathematics, and other subjects relevant to the proposed course of study.
UTME Requirements
Candidates applying to Landmark University should note the following;
1) Candidates must have sat for the current year Unified Tertiary Matriculation Examination UTME) of the Joint Admissions and Matriculation Board (JAMB) and attained the prescribed cut-off marks as a statutory requirement for entry into Nigerian Universities.
2) Applicants are strongly advised to ensure that their UTME subject combination qualifies them for their chosen programme at Landmark University.
3) Candidates who did not choose Landmark University in the current year UTME are free to apply for admission into the University.
4) In addition to the above, Landmark University conducts a Post UTME Screening Exercise for all candidates seeking admission into the University. Applicants may, however, not be admitted without fulfilling the demands of the screening exercise.
You can check for additional details at the Landmark University website.
We hope you can get all the details you need about Landmark University Courses, School Fees, And Requirements from this article. Good luck with your admission.
Also Read:
Coal City University Admissions Process 2023/2024 
Covenant University School Fees For All Courses 2023
Be the first to let your friends know about this. Click the buttons below to share on Whatsapp, Facebook or Twitter.