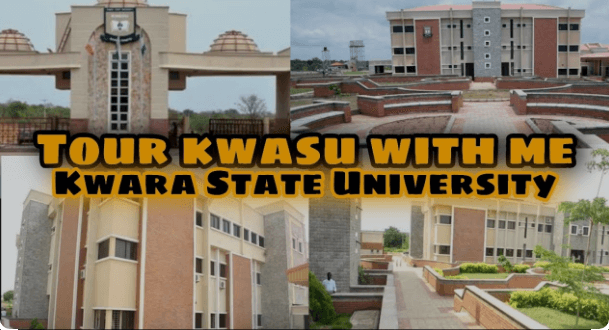 Be the first to let your friends know about this. Click the buttons below to share on Whatsapp, Facebook or Twitter.
KWASU Courses, School Fees Cutoff Marks, And Requirements
If you're interested in the KWASU Courses, School Fees Cutoff Marks, And Admission Requirements, then this information is for you.
About KWASU
Kwara State University, also known as KWASU, is a state-owned university located in Malete, Kwara State, Nigeria. It is the 77th university to be registered by the Nigerian Universities Commission (NUC), and the 95th university to be recognized in Nigeria.
The university was established by the administration of Dr. Bukola Saraki in 2009 and is envisioned to be more than a typical university in Nigeria.
It was designed to be a center for community service and entrepreneurship. In a country where the fundamental values of volunteerism and community involvement are yet to be fully embraced, the university recognizes itself as a part of a community and has the position of a Director for Community Development to mobilize the community, setting assessment strategies, and identifying the needs within the community so that lecturers can use their expertise to impact directly on the communities.
The certificate and instrument to operate the university were obtained on 9 February 2009 from the National Universities Commission (NUC).
Kwara State University has no religious affiliation and has a large student body which means the student body is culturally diverse. The university is cheap and affordable and offers several bachelor's degrees in courses across Engineering, Sciences, Education, arts, management, and social science.
Courses / Departments in KWASU
Accounting
Actuarial Science
Agricultural Engineering
Agriculture
Arabic Studies
Banking and Finance
Biochemistry
Business Administration
Business And Entrepreneurship Studies
Business Education
Chemistry
Civil Engineering
Common and Islamic Law
Common Law
Computer Engineering
Computer Science
Early Childhood and Primary Education
Early Childhood Education
Economics
Education and Science
Electrical / Electronics Engineering
English and Literary Studies
English Language
Entrepreneurship
Environmental Management And Toxicology
Fine Art / Fine and Applied Arts
Fisheries
Food Science and Technology
French
Geography
Geology and Mineral Science
History and International Relations
Hospitality And Tourism
Hospitality And Tourism Management
Human Kinetics
Islamic Studies
Languages and Linguistics
Library and Information Science
Library and Information Science
Linguistics
Mass Communication
Mathematics
Mechanical Engineering
Medical Laboratory Science
Metallurgical and Material Engineering
Microbiology
Performing Arts
Physics
Plant Biology
Political Science
Political Science and Public Administration
Public Health
Sociology
Special Education
Statistics
Yoruba
Zoology
Christian Religious Studies (CRS)
Environmental Health Science
Public Health Science
KWASU Cutoff Marks 2023/2024
The JAMB UTME Cut Off Mark for Kwara State University, Ilorin (KWASU) is 160. Only candidates who scored 160 and above in their UTME result are eligible to apply for admission.
KWASU Departmental Cutoff Mark 2023
Pharmacy            293
Medicine and Surgery    314
Medical Laboratory Science         256
Mechanical Engineering 260
Electronic Engineering   217
Medical Radiography      263
Civil Engineering               256
Mass Communication     265
Foreign Language             180
History and International Studies              242
English and Literary Studies         252
Theatre and Film Studies              249
Nutrition and Dietetics  224
Home Science    180
Medical Rehabilitation   235
Political Science 240
Law        297
Nursing 290
English Education             235
Social Science Education               220
Archaeology       180
Public Administration and Local Government Studies      221
Sociology             216
Economics           242
Urban and Regional Planning      180
Estate Management       200
Architecture       203
Human Physiology           205
Human Anatomy              206
Veterinary Medicine       225
Marketing           212
Banking and Finance       218
Statistics              180
Pure and Industrial Chemistry    216
Physics and Astronomy 203
Aquaculture       190
Linguistics            212
Marketing           183
Banking and Finance       183
Accountancy      246
Business Management  213
Foreign Language             180
Geography         200
Geology               222
German               180
Guidance and Counselling            180
Health Education              180
History  189
Home Science    200
Agricultural Extension    210
Adult Education 180
Agricultural Economics  182
Biochemistry      207
Crop Science      180
Animal Science  180
Microbiology      200
Zoology 181
KWASU School Fees Schedule (Indigene & Non-Indigene)
Indigene of Kwara State
Full Payment Required
Year 1(100Level Students only)  N99,500.00
Year 2-4(200-400Level)  N109,500.00
Hostel Accommodation (Optional)           N35,000                (Pay Online)
Non-Indigene of Kwara State
Full Payment Required
Year 1(100Level Students only)  N200,000.00
Year 2-4(200-400Level)  N210,000.00
Hostel Accommodation (Optional)           N35,000                (Pay Online)
Pay online with your ATM card:
Departmental & Miscellaneous Fees
1) All Departmental and Other Fees should be paid Online
2) All fees for year 2-4 is inclusive of tuition and entrepreneurship fees.
3) Sum of N2,500 for Handbook – All students
4) Sum of N5,000 for 100 – 300 Level – Biochemistry students
5) N5,000 for all students of Tourism, Merchandising and Hospitality Management
6) Sum of N20,000 for 400 Level Education Students (Teaching Practice Exercise)
7) Sum of N18,000 for 300 Level Education students (Teaching Practice Exercise)
8) All geology students must add N25,000 for fieldwork
9) College of Agriculture: Excursion N9,000 / College Professional Registration N1,000 / Farming Practice Training (FPT) N40,000
10) College of Education: Teaching Practice N12,000
11) Early Childhood: Departmental Level N2,500 / Excursion N1,500 / Association Fees: N5,000
12) Business Education: Undergraduate N10,000 / Postgraduate N20,000
13) E – E-learning Enhancement Fee starting 2014/2015 Session N5,000
14) ENACTUS Entrepreneurship Awareness Creation Fees N5,000 for Freshers (100Level)
Note that only tuition fees are required at this time. Hostel accommodation fees will only be paid upon clearance by the Bursary and Hostel Management. If you have already secured Hostel accommodation, print out 3 copies of your accommodation information for the accommodation payment process at the Bursary Department.
NOTE: STUDENTS SHOULD MAKE DEPARTMENTAL FEE PAYMENT THROUGH THE NEW UNDERGRADUATE PORTAL ONLY
All fees paid are Non-Refundable.
KWASU Admission Requirements
A) KWASU Admission Requirements by UTME
Applicants must have reached the age of 16.
Applicants must have at least 6 (six) "Cs (credits)" in their O'level result(s). This must include English, Math, and three other subjects related to their curriculum. For example, a candidate who wants to study law must have a "C" in English, Mathematics, Government/History, Economics, and Literature in English.
Applicants must score at least 160 points in the JAMB UTME exam.
Candidates must take the KWASU post-UTME screening exam and do very well in the exam (depending on the program of study).
No more than one sitting result is accepted for admission to KWASU.
Candidates must choose the appropriate combination of subjects for their subject. Finally, applicants must meet the specified cut-off points for their courses to gain admission to the university.
B) KWASU Admission Requirements by Direct Entry
Candidates seeking direct admission to KWASU must meet the following requirements:
Applicants must have at least five (5) credits in their O'level results. This must include English language and math. However, the results of two sessions are not allowed.
Applicants must also be 16 years old. Applicants must obtain the JAMB registration form directly from JAMB to apply.
Candidates must have one of the following certificates:
OND, ND, NCE, IJMB, Cambridge A level, BSc, HND, ICAN
The admission process begins with purchasing an application form, either online or directly from the university. You must complete the form with accurate information and submit it before the deadline, along with copies of your educational certificates and a passport photograph.
Application Process
The application process to gain admission into KWASU typically involves the following steps;
Purchase the University's admission form online at the official website or designated bank branches.
Complete and submit the admission form, ensuring all required information and documents are provided before the deadline. This includes a copy of your credentials, birth certificate, and passport photograph.
Take the necessary admission screening test, such as UTME. Meet the minimum cut-off mark for your chosen course of study.
Check admission status on the University website and proceed to accept your offer if admitted.
Present yourself for screening and registration at the stipulated date with all original credentials.
Proceed to undertake a medical examination at the University Medical Center.
Complete your registration by paying the necessary tuition fees.
That's all we have for you on the topic of KWASU Courses, School Fees Cutoff Marks, And Requirements. We wish you the best in your endeavours.
Recommended:
Federal Polytechnic Ado-Ekiti Courses, School Fees and Cutoff Marks
EBSU Courses, School Fees, Cutoff Marks and Requirements
Be the first to let your friends know about this. Click the buttons below to share on Whatsapp, Facebook or Twitter.