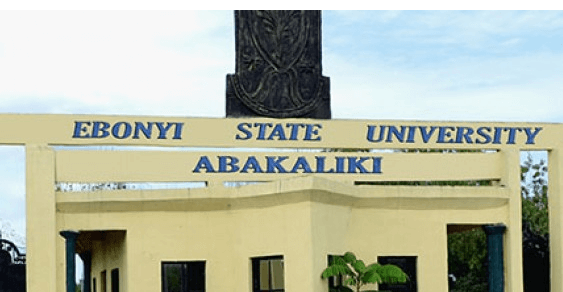 Be the first to let your friends know about this. Click the buttons below to share on Whatsapp, Facebook or Twitter.
EBSU Courses, School Fees, Cutoff Marks, and Requirements
This information is for Candidates seeking information about the EBSU Courses, School Fees, Cutoff Marks, and Requirements. 
About EBSU
Ebonyi State University, Abakaliki (EBSU) was founded in 1999 in Abakaliki, Ebonyi State Nigeria. The university's medical faculty was established in 1991 as ESUT's Faculty of Health Sciences.
Many of its facilities were developed in response to a Guinea worm pandemic; the Abakaliki Specialist Hospital, created for this purpose, was remodeled to become Ebonyi State University's primary teaching hospital.
It was subsequently granted accreditation by the Medical and Dental Council of Nigeria (MDCN) for the training of medical students and resident doctors. Since it became part of Ebonyi State University, the medical school has received considerable funding from the Ebonyi government.[3] Background
List of courses offered in EBSU
As usual, we have arranged all the courses offered in EBSU alphabetically and according to their respective Faculties.
Faculty of Agricultural and Natural Resource Management
Animal Science
Agricultural Economics and Extension
Crop science and environmental management
Fishery and Aquaculture
Faculty of Basic Medical Science
Faculty of Clinical Medicine
Faculty of Education
Agricultural Education
Business Education
Building and Woodwork Technology Education
Education Administration and Planning
Education Biology
Education Chemistry
Education Computer Science
Education Economics
Education English
Education Mathematics
Education Physics
Education Religious studies
Educational Foundations
Educational Management
Electrical and Electronic Technology Education
Guidance and Counselling
Health Education
Home Economics
Human Kinetics and Health Education
Integrated Science
Mechanical Metalwork Technology Education
Social Studies
Technical and Vocational Education
Faculty of Engineering
Food Science and Technology
Faculty of Law
Faculty of Management Science
Accountancy
Banking and Finance
Business Management
Marketing
Public Administration
Faculty of Science
Applied Biology
Applied Microbiology
Biochemistry
Biotechnology
Computer Science
Geology and Exploration
Industrial Chemistry
Industrial Mathematics and Statistics
Industrial Physics
Faculty of Health Science and Technology
Medical Laboratory Science
Nursing Science
Faculty of Social Sciences and Humanities
Economics
English language and literature
French
History and International Relations
Language and linguistics
Mass communication
Philosophy and Religion
Political science
Psychology
Sociology and Anthropology
EBSU School Fees Schedule
EBSU School Fees Schedule For Indigenes and Non-Indigenes 2023/2024
The Ebonyi State University (EBSU) Acceptance Fee for the 2023/2024 academic session is N30,000 [Thirty Thousand Naira only]. This fee is mandatory and non-refundable for every newly admitted student.
EBSU SCHOOL FEES FOR INDIGENES
EBSU SCHOOL FEES FOR NON-INDIGENES
Registration 
NGN 12,000 (Twelve Thousand Naira Only)
22,000 (Twenty-Two Thousand Naira
School Fees
NGN88,000 (Eighty Eight thousand naira only)
 NGN128,000 (One hundred and twenty-eight thousand naira only)
TOTAL FEE
N100,000 (One hundred Thousand Naira Only)
N150,000 (One Hundred and Fifty Thousand Naira Only)
OFFICIAL NEWLY APPROVED FEES FOR ALL STUDENTS IN EBSU, BOTH FRESH AND CONTINUES STUDENTS
THE NEWLY APPROVED DEVELOPMENTAL AND ACCREDITATION FEES.
Following the decision of the Top Management Committee during her emergency meeting held on 10 December 2022 regarding new levy/fees payable by fresh/continuing students of the University as shown in the table below for implementation by all concerned
Accreditation Fee: N10,000.00
NB: PAYABLE BY BOTH FRESH AND CONTINUING STUDENTS OF ALL FACULTIES AND DEPARTMENTS.
DEVELOPMENTAL Fees
N250,000.00 —  Medicine & Surgery and Law students
N200,000.00 – Nursing students and medical Lab students
N 50,000.00 – Students in FSS&H, FMS
Faculty of Engineering, FACULTY of Sciences,
Dept. of Anatomy and Physiology
N 20,000.00 – Education and Agricultural Science Courses
This information is for all concerned.
Ebonyi State University (EBSU) Acceptance Fee
Just like every other school in Nigeria Ebonyi State University will also ask you to pay an acceptance fee, don't be scared you don't need to break the bank just to pay only acceptance fee.
The Ebonyi State University acceptance is 30,000 naira only, apart from that you also need 315 which will be used to process it.
Procedures On How To Pay The Acceptance Fee
Now follow this step below to pay your acceptance fee:
1) First visit the school website (click here), you need to confirm your admission status first to be sure your name is on the admission list, do that by clicking on check admission status
2) Now move to the second phase, by creating an account here https://www.ebsu.edu.ng/portal
3) You have to indicate that you are a newly admitted student by clicking on 'New student' under 'student type', and input your jamb registration number.
Once you are logged in, try and update your profile, the next line of action should be:
i) Generate an invoice ( click on acceptance fee and click on acceptance invoice)
ii) Rush to the bank to pay. Don't forget to log back to print your receipt.
EBSU Cutoff Marks 2023/2024
The EBSU JAMB cutoff mark for 2023/2024 is 180 and it applies to all courses.
EBSU Departmental Cutoff Mark 2023
Pharmacy            293
Medicine and Surgery    314
Medical Laboratory Science         256
Mechanical Engineering 260
Electronic Engineering   217
Medical Radiography      263
Civil Engineering               256
Mass Communication     265
Foreign Language             180
History and International Studies              242
English and Literary Studies         252
Theatre and Film Studies              249
Nutrition and Dietetics  224
Home Science    180
Medical Rehabilitation   235
Political Science 240
Law        297
Nursing 290
English Education             235
Social Science Education               220
Archaeology       180
Public Administration and Local Government Studies      221
Sociology             216
Economics           242
Urban and Regional Planning      180
Estate Management       200
Architecture       203
Human Physiology           205
Human Anatomy              206
Veterinary Medicine       225
Marketing           212
Banking and Finance       218
Statistics              180
Pure and Industrial Chemistry    216
Physics and Astronomy 203
Aquaculture       190
Linguistics            212
Marketing           183
Banking and Finance       183
Accountancy      246
Business Management  213
Foreign Language             180
Geography         200
Geology               222
German               180
Guidance and Counselling            180
Health Education              180
History  189
Home Science    200
Agricultural Extension    210
Adult Education 180
Agricultural Economics  182
Biochemistry      207
Crop Science      180
Animal Science  180
Microbiology      200
Zoology 181
EBSU Admission Requirements
A) For JAMB Candidates
Candidates must possess a minimum of 5 O' level credit passes in relevant subjects which must include English Language and Mathematics at GCE, WAEC, NECO, or approved equivalents at not more than two (2) sittings.
Applicants must select Ebonyi State University as the first or second choice of study during JAMB registration.
Candidates with Teachers Grade II (TC II) with passes at credit or merit levels in conjunction with credit passes in relevant subjects at GCE, WAEC, NECO or approved equivalents may be considered. No subject may be counted at both TC II and GCE O/Level, WASCE, SSCE, NECO, or approved equivalents.
Candidate must make at least 180 pass mark in JAMB to qualify for EBSU post-UTME screening exercise.
Candidates must be sixteen (16) years of age in the year of admission. Candidates would have to provide proof of this either with a birth certificate or an affidavit.
B) EBSU admission requirements through Direct Entry
Candidates who wish to gain admission through direct entry into the Ebonyi State University (EBSU) must meet the following requirements:
Candidates must possess at least five (5) Credits in their O'level result. This must include English Language and Mathematics. However, the two-sitting result is not allowed.
Candidates must have also reached the age of 16.
Candidates are expected to get a JAMB Direct entry form from JAMB to apply.
Candidates should have any of the following certificates: OND, ND, NCE, IJMB, Cambridge A level, BSc, HND, ICAN.
Post Graduate Admission Requirements
General Admission Requirements;
The EBSU School of Postgraduate Studies admission requirements must be satisfied by all candidates seeking for admission into any of the Postgraduate programmes
All candidates seeking admission into EBSU SPGS must have a minimum of a credit pass in Olevel English Language for all programmes. All candidates in Medical/Para-Medical Sciences, Pure, and Applied Sciences and science-related programmes (Agricultural Sciences, Education, etc) must have a minimum of credit pass in mathematics. However, candidates applying for a Postgraduate Degree in Management Sciences, Arts, Social Sciences, and Law may be considered with a pass in Mathematics. Nevertheless, courses such as Economics, Accountancy, and Banking and Finance are special exemptions that require a credit pass of 2.3 in O'Level Mathematics.
Postgraduate Diploma (PGD)
An applicant for admission into any course of study leading to Postgraduate Diploma of Ebonyi State University shall be;
A holder of a Bachelor's degree from Ebonyi State University or other institutions recognized by the Senate; or
A holder of the Higher National Diploma (HND) passed at upper credit level in a related discipline; or
Holders of a third class degree in an area shall normally be admitted to the PGD Programmes. However, the candidate shall not have a CGPA below 2 on a 5-point grade scale.
Holder of Higher National Diploma (HND) passed at Lower Credit Level in a related discipline with relevant work experience of 3 years.
Master of Science (MSc)
Graduates of Ebonyi State University or graduates from other approved universities who have obtained the appropriate degree with at least a good second-class honours or its equivalent;
Holders of the EBSU Postgraduate Diploma or PGD from other recognized institutions who score a CGPA of not less than 2.5 on the 5 points grade scale or 60% average would be eligible for admission into the Master's Programmes.
Doctor of Philosophy (Ph.D)
The following may apply for provisional registration as candidates for the degree of Doctor of Philosophy in view. Graduates of approved Universities who have obtained the degree of Master's appropriate to the proposed study. A candidate seeking admission into a Ph.D. programme from the Master's programmes would obtain a CGPA of not less than 3.50 on 5 points grade.
That's all we have for you on the topic of EBSU Courses, School Fees, Cutoff Marks, and Requirements. Please message us in the comment section for any other details.
That's all we have on the topic EBSU Courses, School Fees, Cutoff Marks and Requirements. We hope you get the information you need.
Recommended:
IMSU Courses, School Fees and Admission Requirements
COOU Courses, School Fees, Cutoff Marks and Requirements
Be the first to let your friends know about this. Click the buttons below to share on Whatsapp, Facebook or Twitter.