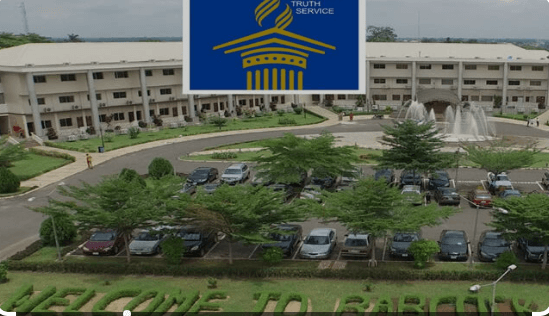 Be the first to let your friends know about this. Click the buttons below to share on Whatsapp, Facebook or Twitter.
Babcock University Courses Cutoff Marks And Requirements
Are you interested in getting admitted into Babcock University and would like to learn about their courses, cut-off marks, and admission requirements? Then this piece would be educative for you.
About Babcock University
Babcock University, named after David C. Babcock who pioneered Adventist work in Nigeria in 1914, is a faith-based and prestigious co-educational private Institution of higher learning.
The institution is supported by the West-Central Africa Division and the three Union conferences in Nigeria, namely, the Western, Eastern, and Northern Nigeria Union conferences.
The University was first named Adventist College of West Africa (ACWA) and in 1975, it changed its name to Adventist Seminary of West Africa (ASWA). Babcock University was later inaugurated officially on April 20, 1999.
The university is located at Ilishan-Remo, Ogun State, Nigeria, equidistant between Ibadan and Lagos.
As of 20 April 1999, during her process of affiliation with the University of Ibadan, the Federal Government of Nigeria included Babcock University as one of the first three Universities in the country, accredited by the National Universities Commission (NUC), and other accreditation bodies.
Its first set of students numbered 1,006 and they kick-started with three faculties, which later became schools, and over the years, more schools, including a postgraduate school which took off in 2010, and a medical school in 2012.
Babcock University (BU) offers courses and programs leading to officially recognized higher education degrees such as bachelor's degrees, and master's degrees in several areas of study.
This Nigerian higher educational institution has a selective admission policy based on entrance examinations and students' past academic records and grades.
The admission rate ranges from 10-20%, which makes it the most selective Institution.
Faculties At Babcock University
There are six (6) faculties at Babcock University which includes;
Public and Allied Health
Science and Technology
Law and Security Studies
Education and Humanities
Management Sciences
Engineering and Computing Sciences
List Of Courses Offered In Babcock University (BU):
Below is the list of courses offered at BU University
1) Accounting
2) Agriculture
3) Anatomy
4) Banking And Finance
5) Biochemistry
6) Biology
7) Business Administration
8) Business Education
9) Chemistry
10) Christian Religious Studies
11) Computer Science
12) Computer Science And Information Technology
13) Economics
14) Education And Economics
15) Education And English Language
16) Educational Administration And Planning
17) English And Literary Studies
18) English Language
19) English Studies
20) French
21) French And International Relations
22) Guidance And Counseling
23) History And International Studies
24) Information And Communication Technology
25) Resource Management
26) Law
27) Marketing
28) Mass Communication
29) Mathematics
30) Medical Laboratory Science
31) Medicine And Surgery
32) Microbiology
33) Music
34) Nursing/Nursing Science
35) Nutrition And Dietictics
36) Physics  Electronics
37) Physiology
38) Political Science
39) Science / International Law And Diplomacy
40) Public Administration
41) Public Health Technology
42) Religious Studies
43) Social Work
44) Software Engineering
Departmental Cutoff Mark
Babcock University, Ilishan Remo does not really have a specific cut-off mark for courses. However, candidates who have scored a minimum of 180 in the UTME examination are eligible to apply for admission into any of their choice courses.
Due to the number of Students admitted into BU, the admission process is competitive and admissions are given based on the higher the jamb scores, the higher the chances of being admitted.
Admission Requirements
Below are the minimum qualifications required to study at Babcock University and gain a first degree (BS.c. BNSC, B.A, MBBS, BS.c ED);
1) You must possess five (5) credits in GCE, SSCE, NECO, or its equivalent
2) Your GCE, SSCE, and NECO results must not be more than two (2) sittings for other courses and not more than one (1) sittings for Medicine.
3) You are ineligible to apply if you are below 15 years of age
4) If you are awaiting your GCE, SSCE, or NECO result before applying then you will be required to submit acceptable qualifications before matriculation
5) In order to qualify to apply for Babcock University admission, you must sit for the joint admissions matriculations board (Jamb) examination for candidates applying for level 100.
6) Candidates applying for direct entry must purchase the joint admissions matriculations board (Jamb) direct entry form.
7) Finally, if you are applying to transfer your admission to Babcock University then you will have to present your Jamb admission letter, an attestation letter from your previous University, and a transcript.
Arming yourself with Babcock University Courses Cutoff Marks And Requirements will go a long way in guiding your path of you're an admission hopeful.
Also Read:
Top 20 Cheapest Private Universities in Nigeria
NOUN Admission Requirements 2023/2024 And How To Apply
Be the first to let your friends know about this. Click the buttons below to share on Whatsapp, Facebook or Twitter.