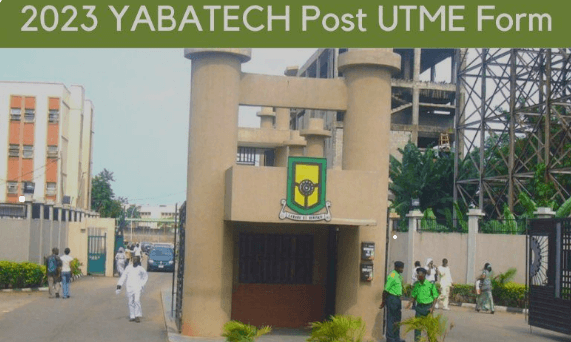 Be the first to let your friends know about this. Click the buttons below to share on Whatsapp, Facebook or Twitter.
YABATECH Post-UTME Application Process 2023/2024
Yaba College of Technology (YABATECH), a renowned institution consistently ranked as Nigeria's top polytechnic for six consecutive years, is opening its doors to eager learners.
Offering both a full-time National Diploma (ND) and Bachelor of Science in Education (B.Sc Edu.) in Technical Education programs in affiliation with the University of Nigeria, Nsukka, this guide provides a comprehensive overview of the application process for the 2023/2024 academic session.
Admission Eligibility Criteria for YABATECH Post-UTME Application 2023
For First Choice Applicants:
Prospective candidates must have selected Yaba College of Technology as their primary institution of choice.
For ND Full-Time courses, a minimum UTME score of 150 is required. For a B.Sc Degree (100 Level), a minimum UTME score of 160 is necessary.
For Direct Entry and Second Choice Applicants:
Direct entry candidates seeking admission to the B.Sc Degree (200 Level) must apply appropriately through the college's online portal.
Candidates who initially selected YABATECH as their second choice must change it to their first choice via the JAMB Portal.
Age Requirement:
All applicants must have attained the age of 16 by October 31, 2023. Candidates who do not meet this age criterion are advised not to apply.
Application Procedure for YABATECH Post-UTME Application 2023
The application window is open from September 4, 2023, to October 6, 2023. To initiate the application process, visit the YABATECH Application Portal or click here.
Step 2: Generate an Invoice
While on the application portal, click on new application

Enter your JAMB registration number and click on login.
At this point, if YABATECH is not your first choice in JAMB, you will not be able to login.
Type in your email address, phone number, and date of birth. Also, select the number of O'level sittings you are applying with.

Click on submit to continue.
Tap on the "Pay for Post-UTME" button to generate an invoice.
Copy the invoice number RRR and save it on a notepad as you will need it later.
Step 3: Make Payment
Visit Remita.net in a new tab. Switch to desktop mode to get the desktop view appearance.
Click on bills and purchases.

From the list of options available, select "Pay RRR invoice".

Paste the RRR code you copied and click on submit. You will be taken to the Remita payment portal to make a payment.
On the Remita portal, click on submit and enter your ATM card details to make payment.
Step 4: Fill in your details
Go back to the YABATECH Post-UTME application portal. Click on "continue application"
Enter your JAMB registration number and surname as the password to log in. Once you are logged in, fill in the necessary details.
Step 5: Pay for Olevel Verification
Click on the payment link at the bottom of the page to pay for the YABATECH Post UTME Olevel verification.
You will be taken to the Remita page once again to complete the payment. Click on submit and enter your card details to pay.
Step 6: Fill in your Olevel Result
Go back to the Post-UTME application page. Log in with your JAMB registration number and surname as your password.
Once you are logged in, scroll to the bottom of the page and click on next.
On the next page, enter the details of your Olevel result carefully.
Make sure the exam number, exam year, and subject grades are correct as wrong information can prevent you from getting admission.
Click on next when you are done.
Step 7: Preview all the Information
Preview all the information you entered on the portal to make sure that they are correct. If you are satisfied with everything so far, you can submit the form and print your application form for reference purposes.
Application Fees
A non-refundable fee of Two Thousand Naira (N2,000.00) is required. Please note that this fee excludes result verification charges and any additional transaction costs. Payment can be made online or at a banking institution; cash payments will not be accepted.
Important Instructions for Candidates
Accuracy of Information:
Candidates are strongly advised to ensure the accuracy of the information provided during registration. Any discrepancies, whether in JAMB details or O'Level credentials, may lead to disqualification.
Consistency in Identification:
Inconsistencies in names or photographs across different documents (such as O'Level Certificates and UTME results) will not be accepted and may result in disqualification.
Troubleshooting and Support:
In case of difficulties with payment or registration, candidates can visit the YABATECH website and click on the "help desk link," or engage with the online support portal for assistance.
 Embrace the opportunity to be part of Yaba College of Technology's esteemed academic community.
Seize the chance to pursue your educational aspirations and contribute to the legacy of excellence at Nigeria's leading polytechnic.
Apply today and embark on your journey to academic success.
Also Read:
Fed Poly Nekede Courses, School Fees and Cutoff Marks 2023
Kogi State Polytechnic (KSP) Post UTME Form for 2021/2022 Academic Session | ND Full-Time
Be the first to let your friends know about this. Click the buttons below to share on Whatsapp, Facebook or Twitter.