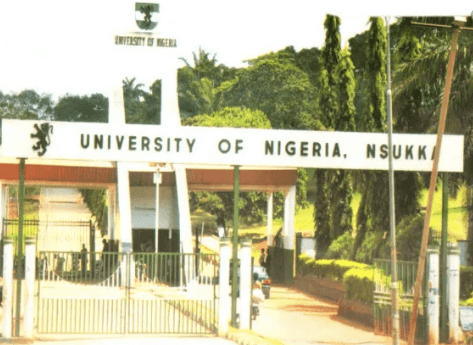 Be the first to let your friends know about this. Click the buttons below to share on Whatsapp, Facebook or Twitter.
UNN Cut-Off Mark for 2020/2021 Session is Out
The University of Nigeria, Nsukka Post UTME for the 2020/2021 Academic Session have been successfully conducted and the results are currently out. Our readers who took part in the Post UTME Screening exercise can read how to check their results here.
Before the screening exercise, only applicants with a score of 180 and above in their UTME results, took part. The cut off mark also varied from faculty to faculty, most notably the faculties of Law, Engineering, Medical Sciences and others who only allowed 200 score and above.
The UNN Cut-off mark for the 2020/2021 Academic Session
We all know that our readers will be anxious as to what the cut-off mark for the 2020/2021 session would be as the Post UTME results are already out. Therefore, we will take our time to analyze the cut-off marks and how it works year-in, year-out.
How does the Cut-Off mark works?
Truthfully, there are no fixed cut-off for any particular school when it comes to admission in any session and UNN is not left out of that equation. The marks are based strictly on candidates' performance and admission quota.
What is Admission Quota?
Admission Quota is the total number of students that will be admitted into each faculty of the school based on the recommendations of the deans and Heads of Departments (HODs) of the faculties and other departments. The body that regulates the general admission quota for each University is the National Universities Commission (NUC), who is charged with ensuring that the ratio of students admitted is directly proportional to the learning/teaching materials that each University have in place. Once determined, an admission quota lays the guideline for the admission that entire academic session.
So What Relates Admission Quota and Cut-Off Marks?
Once the admission quota of any particular department has been determined, the next step is to check for the performance of the Candidates that took part in their Post UTME exercise. For instance, if Medicine has been given an admission quota of 100, the Dean of the faculty will have to submit the numbers to their admission's board, who in place will determine the score of all the Candidates that took part in the screening exercise and pick the best 100 amongst them. They would have to bear in mind the Catchment (including Educationally less privileged states) areas of these candidates when taking these actions. The score of the 100th candidate in corresponding order of performance from the screening exam, automatically becomes the cut-off mark for that academic session and all candidates that falls within that range will all be admitted into that very department. This is how cut-off marks work in Nigerian universities.
Supplementary Admission
Candidates should bear in mind that there is also a chance for complimentary admission in UNN, where those who were not opportune to meet their required cut-off mark, will have a chance to be given another course that fits in with their Post UTME score. It's a wild chance but it's still better than nothing.
Therefore, for the sake of this publication and research purposes, we would release the cut-off marks and catchment marks of the previous 2019/2020 and 2018/2019 sessions. This is done so that candidates will have a chance to analyze their score and determine their chances for getting admitted for a particular course or to go for complimentary admission when the opportunity for that comes.
The UNN cut-off mark for 2019/2019 session.
While the minimum aggregate required for admission into 2019/2020 academic session is 200.
Only candidates who meet the above will be considered for admission into 2019/2020 academic session. Any question concerning the topic can be asked in the comment section.
Next cut-off mark to come out is the UNN Departmental cut-off mark. Some departments released the departmental cut-off mark as detailed below.
NB: This is for research and observation purposes only as School Metro can only determine that this is the cut-off mark for the previous 2019/2020 admission in UNN.
UNN Departmental Cut-Off Mark
DISCLAIMER: University of Nigeria Nsukka (UNN) do not PUBLICIZE their cut-off mark. Hence, you might see disclaimer on the University's website that they have not released their cut-off mark.
The cut-off marks shown on this website are gotten from departments/faculties. Not from the University's website. Sometimes, we might show you some SNAPPED CUT-OFF MARKS, just to prove that THEY ARE REAL!
UNN Admission Quota for 2019/2020 Session.
Admission Quota is the total number of students that will be admitted into each faculty for this 2019/2020 academic session. According to a circular forwarded to UNN faculty Dean's, only 8,099 candidates was admitted.
See what each faculty is expected to admit below:
Agriculture – 719
Arts – 636
Basic Medical Sciences – 210
Biological Sciences – 874
Business Administration – 457
Dentistry – 50
Education – 910
Engineering – 690
Environmental Studies – 324
Health Sciences and Technology – 517
Law – 150
Medicine and Surgery – 120
Pharmaceutical Sciences – 120
Physical Sciences – 779
Social Sciences – 988
Veterinary Medicine – 92
Vocational and technical Education – 210
TOTAL – 8,099.
UNN Departmental Cut Off Mark 2019/2020.
Only a few departments released their cut-off mark.
Below are some departmental cut-off mark for 2019/2020 session. Please note that there might be slight changes in future.
UNN radiography cut-off mark
UNN cut-off mark for radiography
UNN cut-off mark for nursing
UNN 2019/2020 Cut-Off Mark for Nursing
Law merit cut off is now 290
ABIA 283
ANAMBRA 283
ENUGU 287
EDO 240
Rivers 260
History and International studies Merit cut off is 265.
Political Science merit 250.
Mathematics 200.
Home Science Management merit 200
Zoology merit cut off is 200
Botany is 198
Library and Information Science merit is 225
Banking and Finance merit cut-off is 228
Accountancy merit cut-off mark is 251
Linguistics is 225
Combined Biological Sciences (CBS) merit is 211.
MUSIC MERIT IS 235
ARCHEOLOGY – 200
FINE AND APPLIED ART– MERIT-239
SOCIOLOGY-236
ENUGU- 222
ANAMBRA-220
ABIA-210
EBONYI-205
ELD-200
FOREIGN LANGUAGE – 200
RELIGION – 200
SOCIAL WORK MERIT – 235
ENUGU-234
ANAMBRA-233
IMO-232
ABIA-231
ELDS-201
PHARMACY MERIT CUT OFF-293.
ENUGU-292
ANAMBRA-290
EBONYI-288
ABIA-289
KOGI-276
ZAMFARA-203
English Education merit 251
Pure and Industrial Chemistry merit cut off mark is 231
Statistics merit cut off mark is 201.7
VETERINARY MEDICINE
MERIT 227
Anambra 205
IMO 200
English and Literally Studies
Merit 263
Anambra 258
Enugu 256
Abia 250
IMO 248
ELDS 238
Computer science
Merit 236
Anambra 232
Enugu 234
IMO 230
Abia 228.5
ELDS 220
Biochemistry
Merit cut off mark 228
Imo 220
Abia 224
Anambra 228.5
Enugu 226
ELDS 214
Metallurgical and Material Engineering – 201
Agric and bio resources engineering – 204
Electronics engineering -252
Electrical engineering -250
Geoinformatics and Surveying Merit cut off mark is 200.
Geography merit 217
Medical laboratory Science merit 268
RADIOGRAPHY Merit is 292
Enugu 288
Anambra 270
IMO 286
Edo 252
Abia 266
Akwa ibom 262
Delta 258
Ebonyi 265
Nursing Cut-off mark Merit – 287
Enugu – 282
IMO – 282
Anambra – 280
Akwa ibom – 264
Ebonyi – 262
Abia – 278
Edo – 234
Delta – 248
Cross Rivers – 232
MEDICINE and surgery merit is 323
Catchment
Enugu 319.5
Abia 294
Imo 308
Anambra 310
Dentistry – Merit: *279*
Catchment
Anambra 276
Enugu 274
Abia 268
IMO 270
ELDS 256
MedRehab Merit *258*
Catchment:
Anambra 256
Enugu 254
Imo 250.5
Abia 252
ELDS 245
Theater Arts and film studies Merit *249*
Catchment
Enugu 246
Imo 240
Anambra 244
Abia 242
ELDS 238.6
Mass Communication Merit *256*
Catchment
Anambra 254
Enugu 255.5
IMO 252
Abia 250
ELDS 245
Microbiology Merit – 235
Catchment
Enugu 230.5
Imo 234
Abia 228.5
Anambra 224
UNN Cut-off Mark for the 2018/2019 Session
UNN Departmental Cut Off Mark 2018/2019.
Having seen the number of students that will be admitted into each faculties, you should be aware that the cut-off mark for this year will be pretty high as compared to that of 2017/2018 academic session.
UNN will give admission based on aggregate score, see how to calculate the UNN aggregate score HERE.
The UNN Post UTME cut off mark for this year is 180 while the minimum average is 200. This means that no matter your aggregate if you didn't score up to 180 in your post ume, then you are not qualified for admission in UNN.
UNN do not make their cutoff mark public, but we have reliable insider that helps us with the cutoff mark.
For now see the departmental cutoff mark that are available. Please note that the UNN cutoff marks below is for merit only. Educational Less Developed States (ELDS) and Catchment states have a different (lower) cutoff mark. ELDS cutoff mark are usually very low but Catchment areas are most times very close to merit.
Medical Laboratory: 273
Medicine/Surgery: 327
Pharmacy: 304
Law: 306
Medical Radiography: 285
Accountancy: 268.33
Catchment/ELDS: Abia 260; Ebonyi 246; Anambra 264.33; IMO 257.67
Enugu 258.67
Mass communication: 279
Archaeology and Tourism: 225
English Education: 267
Adult education: 200
English & lit. Studies merit 282
Catchment/ELDS: IMO 280.1, Anambra 281, Enugu 279.3
Nursing cut off mark have been reduced from 290 to 285 for merit.
Catchment/ELDS: Anambra 281, Ebonyi 275, Enugu 283, Imo 272, Abia 271.5
Theater arts & film studies 265.33 merit
Catchment/ELDS: Enugu 262, IMO 264.2, Abia 260, Anambra 263.1
History and international studies.. 253.4 merit
Catchment/ELDS: Anambra 251.5, Imo 252.3, Enugu 250, Abia 249
Dentistry merit 294.2
Catchment/ELDS: Enugu 290.4, Ebonyi 257.4, IMO 285, Anambra 285.2
LAW merit 306.67
Catchment/ELDS: Abia (6) 301, Akwa Ibom (5) 275, Anambra (6) 300.67, Delta ((5) 280.67, Ebonyi (5) 296.33, Edo (5) 261.5, Enugu (6) 304, IMO (6) 302, Adamawa (1) 280.5, Bauchi (1) 289.67, Bayelsa (2) 284.17, Benue (1) 286, Borno (1) 253.33, Cross River (2) 285.67, Gombe (1) 264.17, Jigawa (1) 244.17, Kadunna (1) 301, Kano (1) 272.67, Katsina (1) 286.17, Kebbi (2) 287, Kogi (1) 300.33, Kwara (1) 261.17, Nassarawa (1) 291, Niger (1) 207.33, Plateuo (1) 276.67, Rivers state (2) 289, Taraba (1) 277, Yobe (1) 266.67, Zamfara 283.67
Economics Education merit- 234
Political Science merit -272.
Political Science education merit-252
Computer Science merit – 254
Geography merit – 210
Social Work merit-245
Sociology merit 252
Economics merit 262.5
Catchment/ELDS: Anambra-254, Enugu-255, Imo-253, Abia-248, Delta-240
Statistics-200
Electrical engineering merit – 246
Catchment/ELDS: Enugu-232, Anambra-231, Imo-230, Abia-229, ELDS-220
Electronics engineering merit-256.17. English education 267
CIVIL ENGINEERING merit cut off mark is 260
LIBRARY AND INFORMATION MERIT CUT OFF MARK is 250
Also Read:
University of Nigeria Nsukka (UNN) Post-UTME Result 2020/2021
TASUED Post-UTME/DE Screening Result for 2020
Be the first to let your friends know about this. Click the buttons below to share on Whatsapp, Facebook or Twitter.