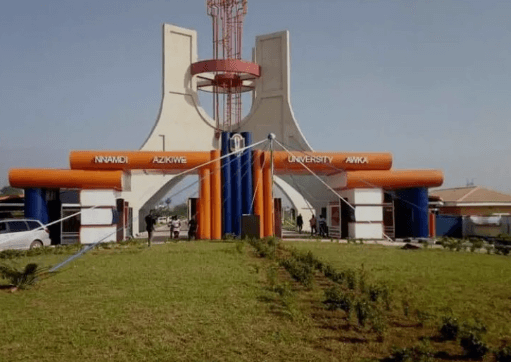 Be the first to let your friends know about this. Click the buttons below to share on Whatsapp, Facebook or Twitter.
UNIZIK Courses, School Fees and Cutoff Marks For 2023/2024
Are you looking for a career course to apply to Nnamdi Azikiwe University, UNIZIK, Nigeria's 10th-best federal university? Schoolmetro brings you all the information you need to know about UNIZIK Courses, School Fees, and Cutoff Marks For 2023/2024.
You can take your time and scan through to choose the best career course for yourself at Nnamdi Azikiwe University, UNIZIK.
UNIZIK Campuses
It comprises two campuses in Anambra State. One of the two campuses is in Anambra State, Awka, while the second campus is at Nnewi. Agulu and Ifite-Ogwuari, Anambra State.
Below are the complete lists of courses offered at Nnamdi Azikiwe University, (UNIZIK) Awka:
List of courses offered by Nnamdi Azikiwe University, UNIZIK, Awka

Faculties

Courses

Arts

English Language and Literature
Modern European Languages
History and International Studies
Igbo-African and Asian Studies
Linguistics
Music
Religion and Human Relations
Theatre and Film Studies
Chinese Studies
Philosophy

Agricultural and Natural Resources

Agricultural Economics and Extension
Animal Science and Technology
Crop Science and Horticulture
Fisheries and Aquaculture
Food Science and Technology
Forestry and Wildlife Technology
Soil Science and Land Resources Management

Basic Medical Sciences

Anatomy
Physiology
Human Biochemistry

Bio-sciences

Zoology
Applied Biochemistry
Applying Microbiology and Brewing
Botany
Parasitology and Entomology

Education

Education Foundation
Human Kinetics and Health Education
Library and Information Science
Science Education
Vocational Education
Adult Education
Early Childhood and Primary Education
Educational Management and Policy
Guidance and Counselling

Engineering

Electrical Engineering
Mechanical Engineering
Chemical Engineering
Civil Engineering
Metallurgical and Material Engineering
Agric and Bioresource Engineering
Electronics and Computer Engineering
Industrial and Production Engineering
Polymer and Textile Engineering

Environmental Sciences

Architecture
Building
Estate Management
Geography and Metrology
Surveying and Geoinformatics
Fine Arts
Environmental Management
Quantity Surveying

Health Sciences and Technology

Medical Laboratory Science
Medical Rehabilitation
Nursing Science
Radiography
Environmental Health Science

Law

Law

Management Sciences

Accountancy
Banking and Finance
Administration
Co-operative Information
Marketing
Public Administration
Entrepreneur Studies

Medicine

Medicine
Obstetrics and Gynaecology
Pediatrics
Surgery
Hematology
Immunology
Pharmacology and Therapeutics
Chemical Pathology
Internal Medicine
Ophthalmology
Medical Microbiology and Parasitology
Community Medicine
Radiology
Histopathology
Anaesthesiology

Pharmaceutical Sciences

Pharmacy
Pharmaceutical and Medicinal Chemistry
Pharmaceutical Microbiology and Biotechnology
Clinical Pharmacy and Pharmacy Management
Pharmaceutics and Pharmaceutical Technology
Pharmacognosy and Traditional Medicine
Pharmacology and Toxicology

Physical Sciences

Computer Science
Pure and Industrial Chemistry
Physics and Industrial Physics
Statistics
Mathematics
Geological Science
Geophysics

Social Sciences

Sociology
Economics
Mass Communication
Political Science
Psychology
UNIZIK School Fees Schedule 2023/2024
The Management of the Nnamdi Azikiwe University, (UNIZIK) wishes to inform the general public that the school fees for the 2023/2024 academic session have been released and published online.
Before we continue, we'd like to inform you that, all information written down here is the exact same details on the university's portal (click here to visit)
Also, the details for UNIZIK tuition fees would be written in a tabular format for clear and better understanding.
The breakdown of the Nnamdi Azikiwe University School Fees schedule for the 2021/2022 academic session is published below. see more details.
UNIZIK ACCEPTANCE FEE 2023/2024
The Nnamdi Azikiwe University (UNIZIK) acceptance fee for the 2023/2024 academic session is N16,500 [ Sixteen Thousand Five Hundred Naira only]. This fee is mandatory and non-refundable for every newly admitted 100L student.
UNIZIK School Fees for Fresh Students 2023/2024 Academic Session
| S/No | Payment Fees | Amount (N) |
| --- | --- | --- |
| 1 | School Fees | 65,000.00 |
| 2 | Accreditation Fees | 10,000.00 |
| 3 | Acceptance Fee | 16,500.00 |
| 4 | Departmental & Faculty  Fees (Depending on courses). | 7,000 – 14,000 |
| 5 | GSS Registration & Result Processing Fees | 7,000.00 |
| 6 | Biometric Fee | 9,500.00 |
| 7 | UNIZIK Journal, History Book, Song, Shirts, Security Handbook. | 5,500.00 |
| | TOTAL YEAR 1 FEES: | 120,000.00 |
UNIZIK School Fees for Returning Students 2023/2024 Academic Session
The amount payable for returning students of UNIZIK is around N20,000 to N25,000(depending on your course or department).
Please endeavor to pay your school fees on time before the deadline to avoid stories that touch the heart.
The list above will continually be updated from time to time, we advise you to continue visiting this page or simply bookmark this page to get updated anytime we publish this article.
UNIZIK Cutoff Mark 2023/2024
The UNIZIK Cut-Off for Nnamdi Azikiwe University Before being eligible to take part in the UNIZIK Post UTME screening process, a candidate who wants to apply for admission to the Nnamdi Azikiwe University must have a minimum score or number of points in the JAMB (UTME).
Additionally, it should be remembered that there are two different UNIZIK cut-off marks: departmental cut-off points and the general UNIZIK cut-off mark.
Let's look at the authentic UNIZIK Cut-Off Mark for 2023/2024 now that we are aware of what the Nnamdi Azikiwe University cut-off mark entails.
The current UTME Cutoff Mark for UNIZIK is 180. The Nnamdi Azikiwe University, Awka is inviting candidates who made UNIZIK their first choice in the recently concluded UTME for admission into their department of choice.
UNIZIK also has supplementary forms for candidates who did not meet the minimum cutoff point for their department. Candidates are expected to have at least 5 Credits in their WASSCE or NECO Result in addition to scoring at least 180 in the UTME.
That is the current cutoff mark for all the departments in UNIZIK. Candidates who wish to apply for admission into Nnamdi Azikiwe University, Awka should read about UNIZIK Post UTME and also visit UNIZIK Portal.
Also Read:
Babcock University Courses Cutoff Marks And Requirements
UI Courses, School Fees and Cutoff Marks For 2023/2024
Be the first to let your friends know about this. Click the buttons below to share on Whatsapp, Facebook or Twitter.