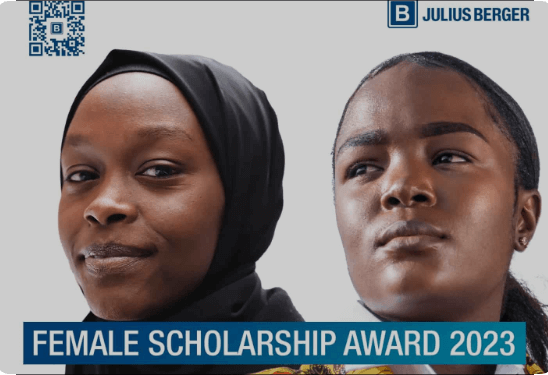 Be the first to let your friends know about this. Click the buttons below to share on Whatsapp, Facebook or Twitter.
T
he Julius Berger Nigeria 2023 Scholarship Scheme
In a groundbreaking move towards advancing education and human capital development in Nigeria, Julius Berger Nigeria Plc (JBN) has unveiled the 2023 Julius Berger Nigeria Scholarship Award, exclusively designed for high-achieving female engineering students.
This scholarship represents a significant investment in nurturing the talents of women in the engineering field, aligning with Julius Berger's longstanding commitment to excellence and progress in the nation's development.
About Julius Berger Nigeria Plc
Julius Berger Nigeria Plc (JBN) stands as a prominent Nigerian enterprise, offering a comprehensive array of services spanning planning, design, engineering, construction, and the operation and maintenance of diverse industry and construction ventures.
With a legacy of consistently delivering top-quality results, Julius Berger has established itself as a reliable partner in the nation's growth and development.
The Scholarship Program
This scholarship program is tailored exclusively for female engineering students in Nigeria and provides financial support for the entire duration of their undergraduate studies. The eligibility criteria are designed to identify and nurture the most promising talents in the field.
Eligibility Criteria
To be considered for the Julius Berger Nigeria Scholarship, applicants must meet the following prerequisites:
Nationality: Must be a Nigerian citizen.
Gender: Must be female.
Academic Enrolment: Must be enrolled in a Federal or State-owned university within Nigeria.
Faculty Requirement: Must belong to the Faculty of Engineering.
Current Academic Standing: Must be in their second year of full-time study at an accredited Nigerian Federal or State university, as verified by the National Universities Commission (NUC).
Academic Performance: Must possess a minimum Cumulative Grade Point Average (CGPA) of 3.5 on a scale of 5.
Exclusions for Julius Berger Nigeria 2023 Scholarship
Immediate family members and dependents of Julius Berger Group employees are not eligible for this scholarship, ensuring fairness and impartiality in the selection process.
Application Procedure
The application process is entirely online and can be accessed through the official Julius Berger Scholarship Application Portal. All applicants must have an active personal email account and a reachable phone number.
Required Documents for Julius Berger Nigeria 2023 Scholarship
Applicants are required to upload scanned copies of the following documents as part of their application:
A recent passport-sized photograph in JPEG format, with a file size not exceeding 200 KB.
University or Joint Admissions and Matriculation Board (JAMB) Admission Letter.
Unified Tertiary Matriculation Examinations (UTME) Results.
Ordinary Level (O' Level) Results, as well as Advanced Level ('A' Level) / Ordinary National Diploma (OND) / National Certificate of Education (NCE) Results, where applicable.
Academic records for the first year (100 level) of university.
Application Deadline and Examination Date
The deadline for submission of applications is October 9, 2023. Only shortlisted candidates will be informed about the subsequent examination date.
Contact Information for Queries
For further inquiries, applicants can direct their questions to [email protected].
Seize the Opportunity
The Julius Berger Nigeria 2023 Scholarship Scheme is a golden opportunity for female engineering students in Nigeria to propel their academic and professional journey.
By investing in the education and development of women in engineering, Julius Berger is contributing significantly to the advancement of the nation.
In conclusion, we encourage all eligible candidates to seize this invaluable opportunity and wish them the best of luck in their application process. Together, we can foster a brighter future for women in engineering and for the growth of the nation.
Also Read:
Mudiame Foundation's N250 Million Scholarship
Be the first to let your friends know about this. Click the buttons below to share on Whatsapp, Facebook or Twitter.