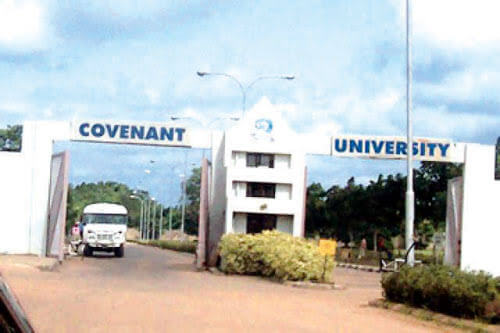 Be the first to let your friends know about this. Click the buttons below to share on Whatsapp, Facebook or Twitter.
List of Courses Offered in Covenant University
Covenant University is one of the most renowned in Nigeria. The University has won several awards over the years since it was established in 2002. Covenant Universities is one of the Institutions in Nigeria that prepares its students for life after school. Beyond the classrooms, they ensure that the students are still learning valuable skills. No wonder the motto is "Raising a new generation of Leaders"
Requirements for application for a Bachelors' degree at Covenant University
The general requirements for application into Covenant University is that you must have credit level passes in five subjects at SSCE/GCE O'Level/NECO/NABTEB or its equivalent, obtained at not more than two sittings. Candidates must pass Mathematics and English.
Also, candidates are required to sit for UTME examination of the Joint Admissions and Matriculation Board (JAMB) and attain the prescribed cut off mark. This is the statutory requirement for entry into Nigerian Universities. Candidates are required to apply for their desired programmes by filling the JAMB registration forms. Also, Covenant University conducts a screening exercise for all candidates seeking admission into the University.
Don't Miss Out!
Full list of all undergraduate courses offered in Covenant University
We have made a concise list of all the accredited courses offered at Covenant University for all those who are aspiring to become students. The university has four colleges for undergraduates; College of Education, College of Science and Technology, College of Business and Social Sciences and College of leadership Development Studies. Covenant University also runs a School of Postgraduate Studies for postgraduate programmes. Let's dive right in!
Courses  in College of Engineering (COE)
1.       Chemical Engineering
2.       Civil Engineering
3.       Computer Engineering
4.       Electrical and Electronics Engineering
5.       Information and Communication Engineering
6.       Mechanical Engineering
7.       Petroleum Engineering
Courses  in College of Science and Technology (CST)
1.       Architecture
2.       Biochemistry
3.       Biology
4.       Building Technology
5.       Computer Science
6.       Estate Management
7.       Industrial Chemistry
a.       Materials and Polymers
b.      Analytical and Environmental
8.       Industrial Mathematics
a.       Computer Science
b.      Statistics
9.       Industrial Physics
a.       Applied Geophysics
b.      Electronics and its Application
c.       Renewable Energy
10.   Management Information Systems
11.   Microbiology
Courses  in College and Business and Social Science (CBSS)
1.       Accounting
2.       Banking and Finance
3.       Business Management
4.       Demography and Social Statistics
5.       Economics
6.       Industrial Relations and Human Resource Management
7.       Marketing
8.       Mass Communication
9.       Sociology
Courses  in College of Leadership Development Studies (CLDS)
1.       English
2.       International Relations
3.       Policy and Strategic Studies
4.       Political Science
5.       Psychology
Covenant University is revolutionizing the educational landscape of Africa. The institution has maintained a high reputation over the years and has produced a lot of successful students. The school will be a good pick for any aspirant. Howbeit, choosing the right course all depends on your passion and career drive. The above listed courses are offered by Covenant University, having fun making your academic decision!
Thank you so much for reading this article; we hope you found what you were looking for. Do well to check out other related articles by clicking here!
Be the first to let your friends know about this. Click the buttons below to share on Whatsapp, Facebook or Twitter.