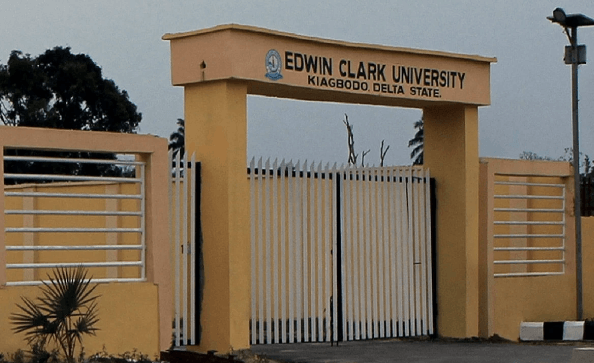 Be the first to let your friends know about this. Click the buttons below to share on Whatsapp, Facebook or Twitter.
Edwin Clark University Courses, School Fees Cutoff Mark, And Requirements
This information is for applicants interested in Edwin Clark University Courses, School Fees Cutoff Mark, And Requirements.
About Edwin Clark University
Edwin Clark University(ECU) is a privately owned university located in Kiagbodo, Delta State, Nigeria. It was approved by the Federal Executive Council of Nigeria in 2015.
2015. It was previously known as Edwin Clark University of Technology (ECUT) but was later changed.
ECU, located in a serene environment in the south-south region of the country, is reputed globally for competitive and moral excellence. ECU is a University on the rise. ECU, a University that cares has in place all the facilities that make learning a worthwhile experience to make its degree global.
ECU Courses
ACCOUNTING
ACTUARIAL SCIENCE
AGRICULTURAL SCIENCE
BANKING & FINANCE
BIOCHEMISTRY
BIOLOGY
BUSINESS ADMINISTRATION
CHEMISTRY
COMPUTER SCIENCE
ECONOMICS
ENGLISH LANGUAGE
HISTORY & INTERNATIONAL STUDIES
INDUSTRIAL CHEMISTRY
LAW
MARKETING
MASS COMMUNICATION
MATHEMATICS
MICROBIOLOGY
PHYSICS
POLITICAL SCIENCE
SOCIOLOGY
Edwin Clark University's School Fees Schedule
The amount of tuition that returning students and first-time enrollees must pay for the academic year 2023/2024 has been made public by ECU management and is available on the school website. The tuition at Edwin Clark University is N2,000,000 for returning students and N2,500,000 for first-time freshmen for the 2023/2024 academic year.
Here is the breakdown:
Tuition
250,000
Other Student Charges
Student Housing per Bed
45,000
Space
Registration
2,000
Examination
2,000
Laboratory/Demonstration
5,000
Charges
Medical
10,000
Use of Library
5,000
Information & Communication
10,000
Technology Charges
Sporting Activities
2,000
Identity Card
500
Academic Gown
4,000
Utility/Sundry Charges
6,500
Verification of Credential
1,000
JAMB Administrative
1,000
Registration
Pre-Alumni Levy
1,000

TOTAL OTHER CHARGES

95, 000
Deposit
Acceptance Fee
50,000
(non-refundable)

TOTAL DEPOSIT

50,000
Total Fees Payable by Undergraduate
395,000
Student per Session
Other Charges Payable As and When Due
Amount
Late Registration Fine per
5,000
semester
Undergraduate Admission
6,000
How to Pay Edwin Clark University School Fees Online
You can pay your Edwin Clark University tuition online by visiting the school website.
Create a student ID and get it validated.
Choose "School Fees Payment" after logging into the student site.
After making the payment, complete the form and submit it.
After you pay, don't forget to print your receipt.
Edwin Clark University's Cutoff Marks
The School Management has released their Cutoff Mark to be 160.
Therefore, candidates who score up to 160 are automatically eligible to sit for the institution's post-UTME examination. The higher your JAMB score, the higher your chances of clinching the course registered in your UTME.
COURSES

Edwin Clark University MINIMUM admission MARK


Faculty of Agriculture

Agricultural Economics & Extension
160 and Above
Animal Science
160 and Above
Crop Science
160 and Above
Aquaculture & Fisheries
160 and Above
Forestry & Wildlife
160 and Above
Hotel Management & Tourism
160 and Above

Faculty of Law

Law
160 and Above

Faculty of Humanities, Social & Management Sciences

Accounting
160 and Above
Banking & Finance
160 and Above
Business Administration
160 and Above
Economics
160 and Above
English & Literary Studies
160 and Above
History & International Studies
160 and Above
Marketing
160 and Above
Mass Communication
160 and Above
Political Science
160 and Above
Sociology
160 and Above

Faculty of Science

Biochemistry
160 and Above
Biology
160 and Above
Chemistry
160 and Above
Computer Science
160 and Above
Industrial Chemistry
160 and Above
Mathematics
160 and Above
Microbiology
160 and Above
Physics
160 and Above
Edwin Clark University Admission Requirements
To be admitted into Edwin Clark University, you must meet the following requirements:
1) Educational Requirements
You must have completed secondary school education and obtained either the West African Senior School Certificate Examination (WASSCE), National Examination Council (NECO), or equivalent with a minimum of five (5) credits, including English Language and Mathematics at not more than two sittings. Applicants with higher qualifications such as a Bachelor's degree, Higher National Diploma (HND), or National Certificate in Education (NCE) may also apply.
2) Age Requirement
Applicants must be at least 16 years of age at the time of application or admission. There is no upper age limit. Mature candidates with relevant work experience who do not meet the minimum admission requirements may be considered for admission.
3) Application Fees
To begin the application process, you must pay a non-refundable fee. The fees can be paid at any branch of the University's accredited banks or via the school's online payment portal using an ATM card.
4) Entrance Examination
All applicants are required to sit for the Edwin Clark University Post-UTME Screening Exercise. Candidates must obtain the minimum cut-off mark for their chosen course of study to qualify for admission. The cut-off marks are determined based on candidates' scores in the Unified Tertiary Matriculation Examination (UTME) and the Post-UTME Screening Exercise.
5) Interviews
Some candidates may be invited for an interview as part of the admission screening process. The interview is aimed at assessing candidates' communication skills, interests, and other qualities.
Meeting the minimum requirements does not guarantee admission into Edwin Clark University. Admission is competitive and based on the availability of space. All applications are holistically reviewed, and admission offers are made at the discretion of the University.
That's all we have for you on Edwin Clark University Courses, School Fees Cutoff Mark, And Requirements. We hope you get the information you seek.
Recommended:
Landmark University's Courses, School Fees And Requirements
Coal City University Courses, School Fees And Cutoff Marks
Be the first to let your friends know about this. Click the buttons below to share on Whatsapp, Facebook or Twitter.