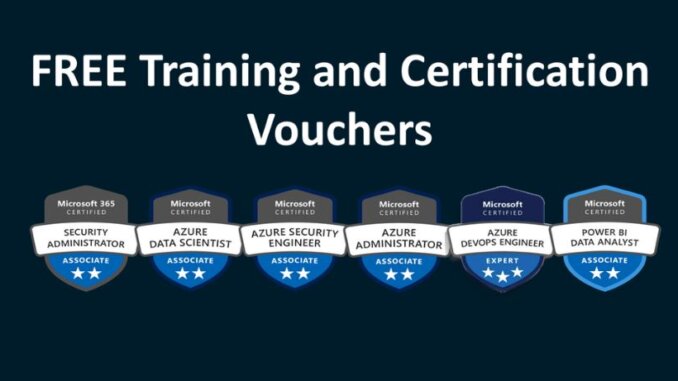 Be the first to let your friends know about this. Click the buttons below to share on Whatsapp, Facebook or Twitter.
Nigeria Ministry of Education is sponsoring free Microsoft certification
A certification examination is a way to ratify one's skills, increase their confidence and ensure one gets opportunities to enter their chosen career due to those skills; This opportunity is no better than the free Microsoft certification exam provided by the Nigerian Ministry of Education.
Despite all of its benefits, it's not everyone that is privileged to take a certification exam as it comes at a cost that some could not afford. Therefore, what would you do if you were given an opportunity to get a free Microsoft certification which will offer you a chance to advance in your career? That would be a massive opportunity, wouldn't it?
This opportunity has been provided by the Federal Ministry of Education for eligible Nigerian residents that would love to get a free certification voucher that would improve their careers.
Digital Skills Nigeria
The Federal Ministry of Communications and Digital Economy has created this skill empowerment program in collaboration with a number of organizations, including Microsoft, to help Nigerian students learn cutting-edge digital skills. It entails developing fundamental and advanced abilities in the following domains:
Administrative Professionals: Develop the crucial abilities required for administrative positions, such as communication, writing, time management, and software proficiency.
Project Manager: Explore PM tools in Microsoft 365, etc. to learn how to manage projects effectively with scheduling, budgeting, and communication.
Business Analyst: Investigate basic principles in business analysis and comprehend important procedures. 
For 
typical 
business 
analysis 
activities, 
practice 
using 
software 
tools.
SystemsAdministrator:
Learn 
about 
this 
comprehensive 
position, 
which 
includes 
managing 
physical, 
virtual, 
cloud, 
on-site, 
and 
storage 
security.
Data Analyst: 
Practice 
using 
software 
tools 
for 
data 
analytics 
and 
data 
visualization 
while 
learning 
the 
fundamental 
concepts 
behind 
data 
analysis.
Software Development: 
Learn 
the 
fundamentals 
of 
programming 
languages, 
their 
structure, 
and 
how 
to 
use 
them.
Advance Certification Exams
Besides these, there are selected advanced Certification Exams you can also write for FREE which are listed below:
Security Administrator:Microsoft 365 Security Administration (MS-500): Demonstrate your real-world knowledge of Microsoft 365 security implementation and administration, including identity, access, threat and information protection, governance, and compliance. Designed for professionals with Microsoft security experience.
Azure Data Scientist: The Azure Data Scientist DP-100 applies their knowledge of data science and machine learning to implement and run machine learning workloads on Azure; in particular, using Azure Machine Learning Service. This entails planning and creating a suitable working environment for data science workloads on Azure, running data experiments and training predictive models, managing and optimizing models, and deploying machine learning models into production.
The Power BI data analyst PL-300 delivers actionable insights by leveraging available data and applying domain expertise. The Power BI data analyst collaborates with key stakeholders across verticals to identify business requirements, cleans and transforms the data, and then designs and builds data models by using Power BI.
This course will explore how to manage identities, provide role-based access, and secure data within an Azure ecosystem.
What will be covered?
Microsoft Azure Security Engineer (AZ-500): You will learn how to implement secure infrastructure solutions in the Microsoft Azure platform, Azure security core services, capabilities, etc.
It manages Azure identities and governance; Exam AZ-104 implements and manages storage; deploys and manages Azure compute resources; configure and manages virtual networking; and monitors and backs up Azure resources.
Designing and Implementing DevOps Solution (AZ-400): Configure processes and communications, Design and implement source control, Design and implement build and release pipelines, Develop a security and compliance plan and Implement an instrumentation strategy.
How to Register for the Microsoft Free Certification Exam
Create a Microsoft Learn account
Browse to http://aka.ms/learn and sign up with your Microsoft account
You will also find materials that can help you to prepare for the certification of your choice
2. Verify your student status and claim your benefits.
Browse to the Cloud Ready site — https://aka.ms/MicrosoftCRS?WT.mc_id=AZ-MVP-5003870 and signup with your Microsoft Account.
Enter your university and country details to confirm you are a student as well as consent to currently being a student and Cloud Ready privacy policy.
NOTE: You will be required to either submit identifying documents or verify using your students' email.
How to Partake in the Microsoft Free Certification Exam
You have to be a citizen of Nigeria, if you're not Nigerian please see FREE Microsoft Student Certifications
Steps to Enrol as found on the Digital Skills Nigeria Platform
STEP 1: Get started by registering for your course of choice and completing your learning.
STEP 2: Take your course mock exam and score above 60% on or before the 27th of the month. A Qualified candidates list will be compiled monthly and you will be contacted via email to notify you of your status.Vouchers will be distributed to qualified candidates on or before the following dates:

•30th March 2023

•31st July 2023

•30th November 2023

This program will stop giving out vouchers by November 2023

STEP 3:
Participate in the Proctor Exam Preparatory Class.
STEP 4
Use your voucher and take your certification exam.
Visit this link to register and start today: http://digitalskillsnigeria.gov.ng/advanced/
Also Read: Guidelines and Instructions For 2021 WAEC GCE Registration: How To Apply
Be the first to let your friends know about this. Click the buttons below to share on Whatsapp, Facebook or Twitter.