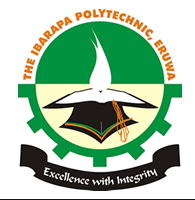 Be the first to let your friends know about this. Click the buttons below to share on Whatsapp, Facebook or Twitter.
Ibarapa Polytechnic Eruwa Post-UTME Form for 2020/2021 Academic Session | ND Full-Time
The Ibarapa Polytechnic, Eruwa [now, Adeseun Ogundoyin Polytechnic, Eruwa] hereby invites applications from suitably qualified applicants for a two – year full-time National Diploma in the following faculties:
Faculty of Communication and Management Studies (FCMS)
Faculty of Engineering (FENG)
Faculty of Science (FSc.)
Faculty of Environmental Studies (FES)
Latest Update:
POST UTME/INTERVIEW HOLDS ONLINE ON 29TH OF DECEMBER 2020
Courses:
Business Administration & Management
Mass Communication
Office Technology & Management
Purchasing & Supply
Civil Engineering
Computer Engineering
Electrical Engineering
Mechanical Engineering
Architectural Technology
Estate Management & Valuation
Fine Art
Fashion Design Technology
Computer Science
Library & Information Science
Science Laboratory Technology
Statistics
The Ibarapa Polytechnic Post UTME 2020 Eligibility.
Candidates seeking admission into any programmes must have scored 120 Marks and above in the 2020/2021 UTME examination. Such must have chosen The Ibarapa Polytechnic, Eruwa (TIPE) as 1st or 2nd choice. Such candidates must have satisfied five (5) O'level credits as the UTME admission requirements for the 2020/2021 session.
How to Apply for The Ibarapa Polytechnic Post-UTME Form
Interested candidates who meet the criteria listed above should apply by clicking on the "Apply" button below:
Special Note
All candidates must read the guidelines before proceeding to register. Candidates should also ensure that requirements into programmes are carefully read as well.
Candidates should ensure that correct information is supplied on the portal as wrong or false information can invalidate such a candidate's admission. If admission is given upon false information by a candidate, such candidate shall have the admission so given withdrawn.
Candidate's names should be appropriately arranged—surname, first name and then middle name. Candidates should avoid name inconsistency. The names on the result of candidate O/L should be the same as the admission application. In the case of HND candidates, there should be name consistency with ND result, as any inconsistency in name arrangement can lead to disqualification.
Candidates should use their personal phone numbers and email addresses as correspondences shall only be directed to supplied phone numbers and email addresses.
Candidates who are found to fill more than one application shall be disqualified.
Candidates are advised to deal cautiously so as not to be defrauded as Adeseun Ogundoyin Polytechnic, Eruwa will not be liable for any transaction with any unauthorized person. All application payments should be made through the Polytechnic payment portal. On no account should payment be made through a third party or any other links.
Screening exercise:
Ibarapoly Post-UTME Screening for National Diploma applicants has been slated for 29th December 2020.
All ND applicants are to come to the SCHOOL with ALL their CREDENTIALS.
Candidates are expected to come along with the following document:
JAMB registration slip AND JAMB result slip
Change of institution slip (if any)
O-level results and to also collect:
recent passport Photographs
Applicant's phone numbers and e-mail – Parent's / guardian phone numbers and e-mail
For more information:
Deadline for submission of application form: Not Specified.
Also Read:
Gombe State Polytechnic Bajoga (GSPB) Pre-ND/Diploma Admission 2020
Moshood Abiola Polytechnic (MAPOLY) HND Admission List 2020
Be the first to let your friends know about this. Click the buttons below to share on Whatsapp, Facebook or Twitter.