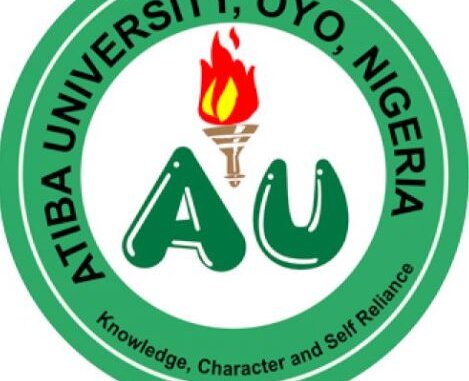 Atiba University Oyo School Fees Schedule for 2020/2021 Academic Session | Undergraduate & JUPEB Programmes
This is to inform all the undergraduate and JUPEB students of the Atiba University Oyo that the management of the institution has released the school fees schedule for the 2020/2021 academic session.
Atiba University School Fees Schedule 2020.
NOTE:
All students are required to register for their semester courses within the first three weeks of resumption. Registration is conditional on payment of the prescribed fees. Late registration after three weeks attracts a penalty of N10, 000 (Ten Thousand Naira).
Payment can be made either in full or in not more than three instalments.
For instalment payments nonetheless, ALL Students are required to fully pay the accommodation fee and other fees/levies before resumption, 50% of the tuition fee before commencement of first semester examinations and the balance on or before the commencement of the Second Semester.
Allocation of accommodation which is on first come first served shall be upon payment of accommodation fees and other levies.
The University runs a decent affordable cafeteria on Pay As You Eat (PAYE)
Payments are to be made online through the University Portal
Note to Mobile users: Scroll to the side to view all the contents in the table below:
NEW STUDENTS (100 AND DIRECT ENTRY)
S/N

TUITION

ACCOMMODATION

OTHER FEES

TOTAL

FACULTY OF AGRICULTURE
1.
200,000.00
80,000.00
149,500.00
429,500.00
FACULTY OF ARTS, SOCIAL & MANAGEMENT SCIENCES
2.
200,000.00
80.000.00
148,000.00
428,000.00
FACULTY OF EDUCATION
3.
200,000.00
80,000.00
148,000.00
428,000.00
FACULTY OF HEALTH SCIENCES
4.
500,000.00
80,000.00
192,000.00
772,000.00
FACULTY OF NATURAL AND APPLIED SCIENCES
5.
300,000.00
80.000.00
149,500.00
529,500.00
FACULTY OF LAW
6.
500,000.00
80,000.00
192,000.00
772,000.00
NB: ALL PAYMENTS ARE TO BE MADE ON THE UNIVERSITY PORTAL.
---
DETAILS OF OTHER FEES FOR NEW STUDENTS (100 LEVEL & DIRECT ENTRY)

FACULTY OF AGRICULTURE/NATURAL AND APPLIED SCIENCES
FACULTY OF EDUCATION/ARTS, SOCIAL AND MANAGEMENT SCIENCES
FACULTY OF HEALTH SCIENCES /FACULTY OF LAW
Acceptance Fee (Non Refundable) (A)
N50, 000
N50,000
N50,000
OTHER FEES:
Programme Infrastructural Development Levy
N10,000
N10,000
N40,000
Sports Facilities
N7,500
N7,500
N7,500
I.D Card
N2,000
N2,000
N2,000
Health Care
N12,500
N12,500
N12,500
Library
N12,500
N12,500
N12,500
Facilities Maintenance
N7,500
N7,500
N12,500
Student Handbook
N2,000
N2,000
N2,000
Matriculation Gown
N5,000
N5,000
N5,000
University Branded Wears (2)
N8,000
N8,000
N8,000
Medical Test (Non-Refundable)
N8,000
N8,000
N8,000
Result Verification (Non-Refundable)
N5,000
N5,000
N5,000
Wifi
N15,000
N15,000
N15,000
University exercise book (10 pcs)
N3,000
N3,000
N3,000
Nursing Wear
–
–
N7,500
Lab Coat
N1,500
–
N1,500
SUB TOTAL( OTHER FEES) (B)
N99,500
N98,000
N142,000

TOTAL (A+B)

N149,500

N148,000

N192,000
NB: ALL PAYMENTS ARE TO BE MADE ON THE UNIVERSITY PORTAL
---
SCHEDULE OF APPROVED FEES FOR RETURNING STUDENTS FOR THE 2020/2021 ACADEMIC SESSION (200 LEVEL)

FACULTY OF NATURAL AND APPLIED SCIENCES
FACULTY OF ARTS, AND MANAGEMENT SCIENCES
FACULTY OF HEALTH SCIENCES (Clinical)
FACULTY OF LAW
TUITION (A)
N300,000
N200,000
N500,000
N500,000
ACCOMMODATION (B)
N80,000
N80,000
N80,000
N80,000
OTHER FEES:
PROGRAMME INFRASTRUCTURAL DEVELOPMENT LEVY
N10,000
N10,000
N40,000
N40,000
SPORTS FACILITIES
N7,500
N7,500
N7,500
N7,500
HEALTH CARE
N12,500
N12,500
N12,500
N12,500
LIBRARY
N12,500
N12,500
N12,500
N12,500
FACILITIES MAINTENANCE
N7,500
N7,500
N7,500
N7,500
CLINICAL POSTING
–
–
N75,000
–
BENCH FEE
–
–
–
N75,000
WIFI
N15,000
N15,000
N15,000
N15,000
LAB WEAR
UNIVERSITY EXERCISE BOOK (10 PCS)
N3,000
N3,000
N3,000
N3,000
SUB TOTAL(TOTAL OTHER FEES) (C)
N68,000
N68,000
N173,000
N173,000
TOTAL (A+B+C)
N448,000
N348,000
N753,000
N753,000
NB: ALL PAYMENTS ARE TO BE MADE ON THE UNIVERSITY PORTAL
---
SCHEDULE OF APPROVED FEES FOR RETURNING STUDENTS FOR THE 2020/2021 ACADEMIC SESSION (300LEVEL AND 400LEVEL)

FACULTY OF NATURAL AND APPLIED SCIENCES
FACULTY OF ARTS, AND MANAGEMENT SCIENCES
FACULTY OF HEALTH SCIENCES (Clinical)
FACULTY OF LAW
TUITION
N300,000
N200,000
N500,000
N500,000
ACCOMMODATION
N80,000
N80,000
N80,000
N80,000
PROGRAMME INFRASTRUCTURAL DEVELOPMENT LEVY
N10,000
N10,000
N40,000
N40,000
SPORTS FACILITIES
N7,500
N7,500
N7,500
N7,500
HEALTH CARE
N12,500
N12,500
N12,500
N12,500
LIBRARY
N12,500
N12,500
N12,500
N12,500
FACILITIES MAINTENANCE
N7,500
N7,500
N7,500
N7,500
CLINICAL POSTING
–
–
N75,000
–
BENCH FEE
–
–
–
N75,000
WIFI
N15,000
N15,000
N15,000
N15,000
LAB WEAR
UNIVERSITY EXERCISE BOOK (10 PCS)
N3,000
N3,000
N3,000
N3,000
SUB TOTAL (OTHER FEES)
N68,000
N68,000
N173,000
N173,000
TOTAL
N448,000
N348,000
N753,000
N753,000
NB: ALL PAYMENTS ARE TO BE MADE ON THE UNIVERSITY PORTAL
---
BREAKDOWN OF FEES FOR JUPEB STUDENTS (2020/2021 ACADEMIC SESSION)

SCIENCES
ARTS, SOCIAL AND MANAGEMENT SCIENCES
APPLICATION FORM (A)
N20,000
N20,000
TUITION (B)
N200,000
N150,000
JUPEB REGISTRATION (C)
N25,000
N25,000
ACCOMODATION (D)
N80,000
N80,000
OTHER FEES:
I.D CARD
N2,000
N2,000
HEALTH CARE
N12,500
N12,500
FACILITIES MAINTENANCE
N7,500
N7,500
SUB TOTAL (OTHER FEES) (E)
N22,000
N22,000
GRAND TOTAL (A+B+C+D+E)
N347,000
N297,000
NB: ALL PAYMENTS ARE TO BE MADE ON THE UNIVERSITY PORTAL
Also Read:
Niger Delta University (NDU) Basic Studies Admission Form 2020